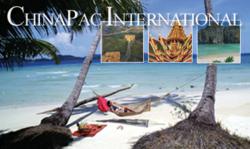 VANCOUVER, BC (PRWEB) April 27, 2011
Nothing makes a more fulfilling vacation than to soak up plenty of tropical sun with just the right amount of culture and adventure. Indeed is the case with Chinapac International's new 12 Day Beaches, Bangkok and Beijing – the combination of both business and pleasure, only business also means pleasure in this Thailand and China tour.
"Travelers don't want to just lie under the sun all through the duration of their trip but to also engage in local things especially in a place you don't visit for a mere weekend," shares Director of Sales & Operations Otis Ashby. "So we had put together the perfect getaway with a tour that provides just the proper fix of culture to go with the sun tan on your skin."
This consummately tailored getaway will set off in Bangkok, beginning with the city's sites and highlights including its three most famous temples: Wat Trimitr (known for its massive Golden Buddha), Wat Po, the oldest and largest temple in Bangkok, and Wat Phra Kaew (Temple of the Emerald Buddha) in the Grand Palace. Adventure takes place as you embark on long-tailed speedboats and converted rice barges to cruise through the canals, or klongs, on the outskirts of Bangkok and observe the simple lifestyle of the friendly canal residents. The program will also bring travelers the thrill of sailing through the floating market of Damnoen Saduak to bargain for fresh produce and local merchandise.
Participants will in addition find themselves engaged in Thai culture through the many different activities involved in this Thailand tour such as witnessing ordination into monkhood, fingernail dance, Thai boxing, elephants at work and more.
And as in all getaways, this Thailand tour would not be complete without the sun and the beach which guests will find plenty of leisure time for in the white-sandy shores of Pattaya.
Finally, as travelers pack their bags to leave the paradise beaches of Thailand, they will be doing so with delight as they board their flight to Beijing for an encore. Offering a glimpse of the oriental capital, the renowned Great Wall, Tian An Men Square, Peking Duck Dinner and a Hutong tour – an escorted tour along the narrow alleys of old Beijing on traditional pedicabs – are only some of the highlights of this China tour.
12 Day Beaches, Bangkok and Beijing is set to depart on November 10, 2011 and February 9, 2012. Full package prices start from $2169. For more details, call 1-800-661-8182 or email info(at)chinapac(dot)com.
About Chinapac International
Chinapac International specializes in travel service to China and the Orient and is proud to celebrate 26 successful years in the travel industry as the premier travel package tour operator to the People's Republic of China and South East Asia.
Contact Information
For more information, visit http://www.chinapac.com or contact 1-800-661-8182.
###