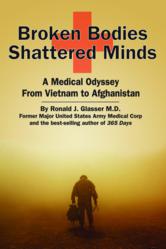 Ron Glasser is a man to be reckoned with, so too, his new book 'Broken Bodies/Shattered Minds'
Palisades, NY (PRWEB) April 26, 2011
Author and physician Ron Glasser's first and next book, written 40 years apart, have been acclaimed by two legendary resources inside of one April week. His first book, the bestselling, "365 Days," published in 1971, was cited in a Wall Street Journal article on April 23rd by Pulitzer Prize winning author David Mamet as being the best book about the Vietnam War, and Publishers Weekly in a rave review on April 19th saluted his forthcoming book, "Broken Bodies/Shattered Minds," as being "…compelling…and more than enough reason for a nation to read and react."
Following his graduation from Johns Hopkins Medical School, Dr. Glasser entered the U.S. Army during the Vietnam War and served as a major in the Medical Corps, a few hours from the war zone at Camp Zama Military Hospital in Japan. He treated the soldiers and Marines who received bloodletting body and head wounds, largely from automatic weapons. He wrote of those wounded in his best selling, "365 days," the book Mr. Mamet cited as the best book about that war.
Alarmed at the changing nature of military tactics, the use by the enemy of improvised explosive devices (IED's) and the subsequent wounds in Iraq and Afghanistan, Dr. Glasser wrote, "Broken Bodies / Shattered Minds," focusing on what has become the signature wound of those two wars: the poly-traumatic loss of limbs, the destruction of internal organs, genitalia, and mind-altering concussive injuries.
Dr.Glassers' work has also caught the attention of a third legendary resource, historian Lewis Lapham. Mr. Lapham, the Editor Emeritus of Harper's and the current editor of Lapham's Quarterly said, after reading an advance review copy of the forthcoming book, "Ron Glasser is a man to be reckoned with, so too his new book, 'Broken Bodies/Shattered Minds'."
"Broken Bodies/Shattered Minds" 9781933909479, History Publishing Company LLC, Palisades, NY, pub date June 15, 2011 will be in book stores nationally.
Contact: Don Bracken, djb(at)historypublishingco(dot)com. (Tel) 845-398-8161
###