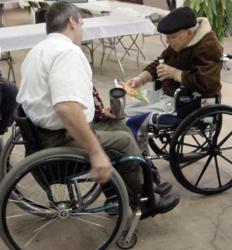 When customers show appreciation for your services and employees, that's the best compliment your business can get.
Akron, OH (PRWEB) April 27, 2011
MobilityWorks, a leading mobility dealer and modifier of wheelchair accessible vans for consumers and commercial fleet operators, has been selected as a recipient of the 2011 Smart Business World Class Customer Service Award.
According to Smart Business Online (sbnonline.com), the Five-Star World Class Customer Service Award program serves to raise awareness of the importance of customer service in the business world, recognize organizations that demonstrate exceptional customer service and share best practices in customer service from those that do it best. The annual award program is presented to companies in major cities throughout the United States.
MobilityWorks was selected with other leading Northern Ohio companies serving the Cleveland metro area. The nomination and selection process includes a detailed examination of the company's customer service philosophy and culture, investment in technology systems (relating to service issues), unique situations requiring considerable care, and case study examples. Eleven judges from a variety of leading companies in the area were involved in selecting the recipients, with testimonials from clients playing a major part of the MobilityWorks nomination.
"When customers show appreciation for your services and employees, that's the best compliment your business can get," said MobilityWorks President and CEO, Bill Koeblitz. MobilityWorks vehicles provide independence and freedom to people with a variety of physical challenges throughout the country. The company has 13 consumer showroom locations in seven states and will soon be expanding to 14 with a store opening in Pasadena, CA this coming June.
"Our wheelchair vans provide independence to people of all ages and many are very active in their community," said Eric Mansfield, VP of Store Operations for MobilityWorks. "Customer referral is a crucial part of our business. We wouldn't be successful if we weren't providing excellent customer service."
Other well-known recipients of this year's award include Firestone Country Club, Invacare Corporation, Lincoln Electric, Nestle USA, The Ritz-Carlton, and United Cerebral Palsy of Greater Cleveland. The award ceremony and reception will be held June 9th at the Executive Caterers at Landerhaven in Cleveland, Ohio.
About MobilityWorks
MobilityWorks is the largest U.S. retailer of wheelchair vans and handicapped driving equipment serving the disabled community. Headquartered in Akron Ohio, they have showroom and service locations in seven states and a Commercial Manufacturing division. The Inc 5000 company is also the largest installer of wheelchair lifts in the country, converting handicap accessible full-size vans for businesses and health-providers that transport wheelchair passengers. For additional information, go to http://www.mobilityworks.com.
# # #