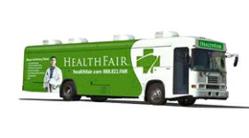 On The Road To Better Health
Winter Park, FL (PRWEB) April 26, 2011
Americans are living longer, making it even more important for them to stay fit and healthy. HealthFair the nation's leading provider of mobile health screening services, is celebrating National Senior Health and Fitness Day by reminding seniors that proper nutrition, physical activity and preventive health care services are the foundation for proper cardiovascular health. In addition, HealthFair is giving a free CD of their test results to any Seniors (those 65 or older) who mention Senior Health and Fitness Day when they schedule their appointment on May 25, 2011.
Doctors say diet, exercise and preventive health screenings can potentially provide the tri-fecta of senior health. "Proper diet and exercise can help keep your blood glucose (blood sugar), blood pressure and blood cholesterol in the recommended range, therefore lowering the risk of diabetes," said HealthFair Chief Medical Officer, Dr. Robert Oristaglio, D.O.
The American Diabetes Association states that there is a big link between diabetes, heart disease and stroke. In fact, the organization says, two out of three people with diabetes die from heart disease or stroke, also called cardiovascular disease. According to the Centers for Disease Control and Prevention, one American will have a coronary event every 25 seconds. Although most cardiac conditions have risk factors, very few have outward signs or symptoms.
"During a HealthFair echocardiogram, the technicians discovered an 8.5 cm aneurysm on my husband Ray's aorta," said Barbara Greene of Summerfield, Florida. "The HealthFair technicians told Ray to go to the nearest hospital immediately. That day, from the echocardiogram, they discovered an aneurysm of 8.5 cm on Ray's aorta. At the hospital, a CAT scan revealed that the aneurysm was leaking and Ray needed urgent surgery to survive. He had the surgery just two days after the HealthFair screening. That screening and the subsequent surgery most certainly saved my husband's life," added Greene.
"Preventive screenings are considered the best way to detect those risk factors," added Dr. Oristaglio. "Even people without any current symptoms might be at risk for a chronic, life-threatening disease." People can find out if they are at risk for diabetes, heart disease, stroke, as well as aneurysm and cancer by visiting http://www.HealthFair.com or calling 1-888-822-3247 to find a HealthFair mobile health screening near them.
With proper nutrition, exercise and preventive medical screenings yearly, every senior can get the answers they need to get on the road to better health.
About Health Fair
HealthFair, based in Winter Park, Florida, has been the national leader in mobile medical screenings for the past 10 years. The company's mission and passion is to save lives by providing quality, affordable, and accessible health screenings and testing to communities throughout the United States. By offering access to non-invasive, advanced imaging technologies at an affordable price, HealthFair empowers people to take control of their
cardiovascular, breast, and bone health. Mobile screening clinics are Joint Commission certified for excellence and offer client employees or patients superior privacy, comfort, and convenience via work site or community testing.
###