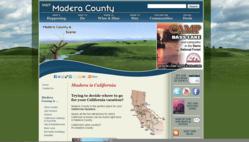 From the falls of Yosemite to the fossils at the Fossil Discovery Center in Chowchilla and everything in between, Madera County is a world class vacation destination, and this site shows that
Oakhurst, CA (PRWEB) April 27, 2011
The Yosemite Sierra Visitors Bureau unveiled a new website during their recent Board of Directors meeting.
The website, http://www.visitmaderacounty.com, is aimed at potential visitors looking for the California experience. "The idea of this site is to target that person looking to experience California by showing that Madera County has just about everything for which our state is known," said Jarrod Lyman, Director of Media for the Yosemite Sierra Visitors Bureau. "The wine country, agricultural tourism, water sports, scenic beauty, arts, fine dining, outdoor adventure, all of those activities people identify with California can be found right here."
"This site isn't meant to replace our other site, http://www.YosemiteThisYear.com," said Rhonda Salisbury, Director of Marketing for the YSVB. "This is targeting an entirely different visitor. With both sites working in cooperation, we can reach more people and educate them about what Madera County has to offer."
Lyman said YosemiteThisYear.com will soon be redesigned to match the new site. "The two layouts will be consistent, with different color palates," he said. "Our webmaster at Digital Mirrors has done a great job with the new site, coming up with an easily navigable menu structure that will carry over to our original site. They will complement each other very well. "
The YSVB has the ability to edit all the content on the page, which staff says will help keep the content fresh. "We're able to update things immediately from anywhere, so if something arises we want to let people know about, we can do that. It's very helpful," said Salisbury.
Board President Max Stauffer said the new site is part of the bureau's ongoing efforts of promoting the entire region. "Our area has so much to offer, and we're continually using new tools to show people that," he said. "From the falls of Yosemite to the fossils at the Fossil Discovery Center in Chowchilla and everything in between, Madera County is a world class vacation destination, and this site shows that."
###