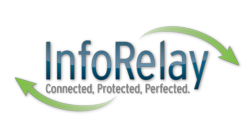 Sterling, VA (PRWEB) April 29, 2011
InfoRelay Online Systems, Inc., an IT solutions and connectivity provider, announced today its release of the EdgeRelay Content Distribution Network (CDN).
InfoRelay has provided enterprise, mission-critical server colocation and bandwidth solutions since 1995, with US-based colocation facilities on the East Coast, West Coast, and the Central United States. Despite InfoRelay's large US presence, the introduction of EdgeRelay represents a major expansion of InfoRelay's reach, as well as the utility of its service offerings.
The EdgeRelay CDN was designed to compliment InfoRelay's colocation and bandwidth services, increasing the overall reliability and performance of InfoRelay's solution. EdgeRelay leverages thousands of physical servers, configured in a fault-tolerant, high-availability topology, hundreds of gigabits of Internet capacity, and advanced routing techniques to provide the lowest-latency, highest-throughput connection possible. The EdgeRelay network is currently powered by nearly 20 global caching centers throughout the United States, Europe, Asia, and Oceania Region, with near-term potential for future expansion. This global presence allows EdgeRelay to serve content from the data center that is closest to the end-user -- reducing latency and increasing transfer speeds to the end user. By relying on cloud technologies and clustering of servers, EdgeRelay is extremely scalable, easily handling peak demand periods without the need for end-users to deploy additional servers with colocation facilities to serve static content.
EdgeRelay periodically loads data from one or more origin servers; these can be servers or clusters of servers located within any InfoRelay facility nationwide. By the fourth quarter of 2011, InfoRelay plans to allow EdgeRelay users to retrieve and cache data from servers located outside of the InfoRelay network. EdgeRelay's intelligent caching mechanism then caches images and static content for a set period of time. EdgeRelay currently supports caching of static content and images, media services and streaming (including streaming of live events), and authenticated software distribution. Additional features are reported to be coming soon.
"Offering EdgeRelay to our clients will ensure that they don't just view us a standard colocation provider. EdgeRelay is yet another tool that we provide to our clients to enable seamless scalability and growth. By delivering critical content via the EdgeRelay Distribution Network, clients can ensure that their end-users have a high-performance experience. I see this as a great compliment to InfoRelay's already stellar network, support, and other features," stated Brandon Tedder, Director of Sales and Marketing for InfoRelay.
InfoRelay has reported that the EdgeRelay network has been made available to select InfoRelay clients for testing. InfoRelay plans to make the EdgeRelay service available to all InfoRelay clients by the third quarter of 2011, with general public availability by the fourth quarter of 2011.
About InfoRelay Online Systems, Inc.
InfoRelay Online Systems, Inc. delivers enterprise-level managed services to small to medium-sized businesses. InfoRelay improves its clients' efficiency and profitability through the company's array of reliable IT services. By demonstrating unparalleled levels of responsiveness, concern, and overall service, InfoRelay establishes a unique trusting relationship with each client, allowing InfoRelay to act as a 24x7x365 extension of its clients' IT departments. This partnership permits InfoRelay's clients to focus on their core competencies, instead of the day-to-day concerns of hosting infrastructure. For more information, please visit http://www.inforelay.com, follow InfoRelay on Facebook and Twitter, or call (703) 485-4600.
# # #