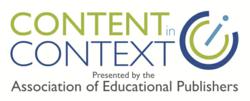 Innovation takes a dialog between many parties, and the essence of [the Content in Context Conference] is to create a platform for that dialog.
Wilmington, DE (PRWEB) April 26, 2011
Everyone from President Obama to the Secretary of Education to your child's third grade teacher is calling for fresh approaches to teaching and learning. As two of the driving forces behind innovation and entrepreneurship in education, the Association of Educational Publishers (AEP) and the University of Pennsylvania's Graduate School of Education (GSE) are excited to announce the Innovation Throwdown, a dynamic, interactive presentation at AEP's Content in Context Conference (CIC) that will use real-world ideas for products and services to explore the opportunities and barriers for education entrepreneurs and startups.
Doug Lynch, Vice Dean at Penn's GSE and founder of Networking Education Entrepreneurs for Social Transformation (NEST), will lead the discussion, examining the complicated interplay of funding, policy, and business in the education market. The session will also feature a high-powered panel of education funding and policy experts including:

Stacey Childress, Deputy Director of Education, Bill & Melinda Gates Foundation
Michael Moe, Co-Founder and CEO, The NeXt Companies
Jim Shelton, Assistant Deputy Secretary for Innovation and Improvement,
U.S. Department of Education
"Innovation takes a dialog between many parties, and the essence of CIC is to create a platform for that dialog," said Charlene Gaynor, CEO of AEP. "The Innovation Throwdown session will essentially be a microcosm of the conference--inspiring and encouraging the progressive ideas and solutions necessary to prepare our nation's students to compete in the global economy of the 21st Century."
The Innovation Throwdown will feature four ideas or products that solve an education problem in an innovative way. Individuals or organizations interested in presenting can submit a proposal on the Innovation Throwdown website through May 13, 2011. This could include individual entrepreneurs, education startup companies, or existing organizations poised for growth.
All submissions will be evaluated by the public on the Innovation Throwdown website the week of May 16. Authors of selected proposals will be notified by May 27.
For more details on the Innovation Throwdown or to submit an idea, visit http://www.gse.upenn.edu/aep-innovation. To find out more about AEP's Content in Context Conference, visit http://www.contentincontext.org.
Content in Context is supported by the following premier sponsors: SMART Technologies, Intel, MCH Strategic Data, Texas Instruments, and Weekly Reader.
About AEP
The Association of Educational Publishers (AEP) is a nonprofit organization that serves and advances the industry of supplemental educational publishing. The membership of AEP represents the breadth of educational content developers delivering progressive educational products in all media and for any educational setting.
AEP's thought leadership and market insight have created ground-breaking opportunities for its members to collaborate, network, and partner with each other as well as to acquire a voice in the development of government education policy. Founded in 1895, AEP now assists its members in navigating the global realities of educational publishing in the 21st Century. For more information, please visit http://www.AEPweb.org.
About Penn GSE
Penn GSE is one of the nation's premier "research ed schools." A small percentage of education programs in the U.S. offer doctoral degrees at all, a tiny fraction are located at flagship research universities, and no other education school enjoys a University environment as supportive of practical knowledge-building as the University of Pennsylvania.
Penn GSE has long been known for excellence in qualitative research, language and literacy studies, practitioner inquiry and teacher education. Over the last 15 years, Penn GSE has also developed remarkable strengths in quantitative research, policy studies, evaluation, higher education, and psychology and human development. The School is remarkably entrepreneurial, launching innovative degree programs for practicing professionals and unique partnerships with local educators.
###