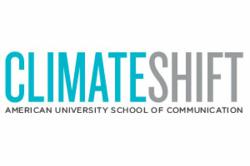 This analysis shows that the effort by environmentalists to pass cap and trade may have been the best financed political cause in history and that news coverage of climate change overwhelmingly reflected the consensus view among scientists.
Washington, DC (PRWEB) April 25, 2011
A Nature.com editorial calls "Climate Shift: Clear Vision for the Next Decade of Public Debate" by American University Professor Matthew Nisbet "essential reading for anyone with a passing interest in the climate-change debate." The new research challenges the commonly-held view that cap and trade legislation failed because of the spending advantages of opponents and false balance in news coverage.
"There is a tendency among environmentalists and scientists to blame political inaction on the spending advantage enjoyed by conservatives and on false balance in media coverage," says Nisbet. "However, this analysis shows that the effort by environmentalists to pass cap and trade may have been the best financed political cause in history and that news coverage of climate change overwhelmingly reflected the consensus view among scientists."
As leaders and experts consider next steps in the climate change debate, the report is intended to inform decision making. The report's analysis finds that although there was once "false balance" in coverage, since 2003 that has not been the case. It also shows that in 2009, the national environmental groups working on climate change out-fundraised and out-spent conservative think tanks, groups and industry associations aligned against cap and trade legislation on climate change and energy policy efforts.
The report also examines the decision making of nine aligned major foundations, led by ClimateWorks, which funded a network of organizations advocating for a mandatory cap on greenhouse gas emissions.
"Contrary to conventional wisdom, these major foundations have been as strategic in targeting specific policy outcomes as even conservative philanthropists such as the Koch brothers," says Nisbet. "Yet this focus and strategy has overlooked several key dimensions of societal action."
Pairing rigorous, in-depth research with an accessible narrative, the report is designed for an audience beyond the Ivory Tower. As a social scientist, Nisbet studies strategic communication in policymaking and public affairs, focusing on debates over science, the environment and public health. Since 2007 he's examined public opinion and climate change, looking at the influence of the media and how groups can effectively communicate about the issue. He has published articles in peer-reviewed journals, blogged, written popular press articles, and given talks. The author of more than three dozen peer-reviewed studies, he serves on the editorial boards of Science Communication and the International Journal of Press/Politics. His research is funded by the Nathan Cummings Foundation and the Robert Wood Johnson Foundation, where he serves as a Health Policy Investigator. In 2011, he was named a Google Science Communication Fellow in recognition of his work on climate change.
Nisbet estimates that the nine foundations distributed at least $368 million between 2008 and 2010 to organizations working on climate change and energy policy. More than half this funding was given to just 25 groups, 14 of which were national leaders in the effort to pass cap and trade legislation. As the top recipient of funding, nearly one out of every 10 dollars ($34.6 million) went to the Bipartisan Policy Center, exceeding the $31.3 million distributed by Koch-affiliated foundations to all conservative organizations active on climate change between 2005 and 2009. (Exxon Mobil gave $8.9 million during this period).
Yet the 50-page strategy document that guided the foundations' investments, according to Nisbet's analysis, was notable for its "absence of any discussion of social, political or cultural dimensions of the challenge." As his analysis shows, there were comparatively limited amounts of funding focused on the role of government in promoting new technology and innovation. Nor was there equivalent investment in adaptation, health, equity, justice, job creation or economic development.
Nisbet's report additionally reviews the likely causes for the decline in public concern and belief in climate change in recent years. As he finds, opinion trends show historically that concern with the environment declines appreciably with a rise in unemployment levels, as was the case in 2009 and 2010. And, while Republicans are deservedly blamed for promoting polarization on the issue, admired Democratic leaders also shoulder responsibility. Since 2002, Al Gore has consistently sought to mobilize progressives politically, pairing his messages about climate science with attacks on Republicans.
Nisbet also examines how ideology, just as it does among the general public, shapes the views and the interpretations of climate change advocates. Analyzing a representative survey of members of the American Association for the Advancement of Science (AAAS), Nisbet concludes that a strongly one-sided ideological outlook likely leads many scientists and environmentalists to overlook how economic trends and their own actions might diminish public concern, and instead focus on presumed flaws in media coverage or the activities of conservatives. Moreover, as organizations such as the AAAS train and encourage their members to engage in public outreach, most participants are likely to view politics very differently from the audiences with which they are trying to communicate, a challenge that merits greater attention as part of these trainings.
The report can be found at http://www.ClimateShiftProject.org. The study was funded by a $100,000 grant from the Ecological Innovation program at the Nathan Cummings Foundation.
###