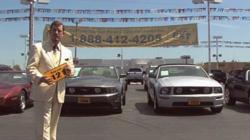 We love using CellThis because it works, and it's affordable. And since there is no long term commitment involved, I'm happy to recommend that other dealers try it.
Marion, IL (PRWEB) April 27, 2011
Rapid inventory turnover is crucial to profitability in automobile dealerships, and using CellThis can help dealers achieve a much faster turnover of their inventory than ever before. Here's what Mike Absher, the Dealer Principal at Marion Ford, Lincoln, Hyundai in Marion, Illinois, says about the CellThis lead generation/mobile marketing system:
"Using CellThis has been instrumental in helping us achieve a much faster turnover of our inventory than ever before. It's an effective way to generate qualified leads, it captures leads that we probably would have missed otherwise, and it is by far the least expensive form of advertising I have ever used."
Watch this brief video to see and hear Mike Absher talk about how Marion Ford uses CellThis and what it has done for his dealership:
http://www.youtube.com/watch?v=UKtAC9OYx_c
The CellThis Company's mobile marketing method combines voice, text and the internet to provide automobile dealers and other businesses with an affordable, effective way to generate and capture leads and market vehicles and other products and services. Among the innovations of its patent pending program is a unique feature that automatically creates a new web page each time a different extension is activated.
###