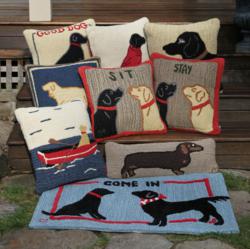 bassets and dachshunds... these long low dogs perfectly suit the proportions of our horizontal 'horizon' pillows.
Manchester Center, VT (PRWEB) April 27, 2011
Chandler 4 Corners scored a big hit last year with its now famous "Sit" pillow, which White House Interior Decorator Michael Smith cited as one of his favorite things in People Magazine, calling it "super charming with that classic American look." This year, the Vermont-based purveyor of quality handhooked wool pillows and rugs is adding to its line of dog-themed products with new summer-inspired designs.
A black lab watching a red kite in a blue summer sky ("Go Fly A Kite") hooked in a long horizon pillow fits on summer porches everywhere from Nantucket to Napa. Two small rugs (2x3'), each with labs on them—"Field Friends" has a lab and a bunny in a field, "Three Dog Night" has a black lab, a yellow lab, and a chocolate lab under a starry sky—are already proving extremely popular. They join a raft of summer dogs, including the "Sea Dog" rug (a black lab in a boat) and the "Row Your Boat" pillow (a yellow lab in a boat) in the Chandler Dog Collection.
In a trend that may indicate that the reign of labs and golden retrievers is drawing down in the American household, two new dog designs are moving quickly out of the Chandler 4 Corners warehouse. The long, narrow Dachshund Horizon Pillows (one with a black dog, one with a brown one) and 2 charming basset hound pillows showing the gentle-natured hunter on a red field are flying off the shelves. Why bassets and dachshunds? "We were hesitant to step away from our design comfort zone which includes family and sporting breeds like lab and goldens," said company president Henry Chandler. "But these long low dogs perfectly suit the proportions of our horizontal 'horizon' pillows. Our designer, Laura Megroz, who has a terrific sense of humor as well as an incomparable design esthetic, thought they were the right hounds for the job."
A perennially popular Chandler 4 Corners offering is the "Name Your Dog" pillow. Anyone can order a dog pillow and have it inscribed with their dog's name. This is a gift that brings a broad smile in any household, and is particularly suited to that "hard-to-please" gift recipient on your list.
In addition to new summer-themed pillows and rugs, Chandler 4 Corners this year introduced many new holiday products with dogs, including pillows, stools, Christmas stockings, and rugs.
Chandler 4 Corners is based in Manchester Center, Vt. For more information, visit the website at chandler4corners.com
###