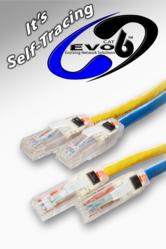 Austin, TX (PRWEB) April 27, 2011
After winning the INNUA Global Connect Innovation Award in 2009, demand for the EVO6 Traceable Patch Cord increased on a national scale. As new municipal utilities, government agencies and public institutions begin to replace existing traditional Cat6 with the advanced built in traceability technology provided by the EVO6 Patch Cable, the demand for the revolutionary new product has more than doubled.
Though they have traditionally manufactured and distributed their cables independently in the United States, Mertek is proud to announce the availability of five exclusive online US distributorship opportunities in addition to their existing overseas distributors.
Although the EVO6 Patch Cord has provided a time-saving alternative to hand tracing for both large and small projects, the increased demand from large institutional buyers has given this US based cable manufacturer the opportunity to allow outside distributors and online resellers the opportunity to benefit from the popularity of this exciting product.
The EVO6 Patch cord is a standalone product. There is no additional software to purchase and no hardware or external power source required. Mertek's EVO6 Patch Cord comes equipped with a Trace Button and an LED light in each of it's plugs. One press of either trace button starts the LEDs on both ends flashing, making swift and easy identification of the cable possible.
The exclusive online distributor opportunities include access to a variety of marketing and support materials, including training and promotional videos, salesperson training, banner ads and other graphic resources as well as exclusive access to the Distributor Support website.
Features:

Meets Category 6 component specifications TIA/EIA-568-B.2-1
Each cable is factory tested and certified for Category 6 performance
Plug targets TIA center values, paired bi-level contact array
Precision performance stranded conductor cordage
Compatible with both T568A and 568B wiring
Snag free plug design also provides superior bend relief
Stocked in 8 standard colors
Backward compatible to Category 3, 5 and 5e
Center tuned plug termination
Mertek Industries has been providing innovative communication products for over ten years, and is a ISO9001 approved manufacturing company. The company has gained an industry wide reputation for providing quality products that exceed customer's expectations for quality, durability, innovation and overall value. As an OEM/ODM supplier for Avaya. Mertek has become known for adding simple but effective twists to many products.
To learn more about the EVO6 Patch Cord visit http://www.mertekjcs.com.
To inquire about distributorship opportunities contact Scott Chamber at Austin Digital Group, 512-786-0677 or scott(at)austindigitalgroup(dot)com
# # #