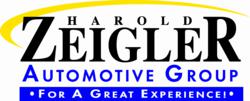 Kalamazoo, MI (PRWEB) April 26, 2011
Zeigler Automotive Group, the Midwest's leading auto dealer group, today announced its continued expansion and job creation with the opening of the all new Zeigler Chrysler, Dodge, Jeep, Ram in Downers Grove. The dealership, located at 2311 Ogden Ave, Downers Grove, Illinois, is now greeting customers for new and used vehicle sales, and parts and service work.
In 2009, Chrysler Group LLC approached Zeigler Automotive to open a new dealership in Downers Grove to better serve the greater Chicago area. Chrysler selected the dealer group because of their vast experience with the Chrysler franchise, commitment to their dealership communities and proven track record of success.
Zeigler agreed to open the new dealership and extensive construction and renovation began in April 2010. The refurbishments are now complete and the dealership began serving customers in March. Zeigler Chrysler, Dodge, Jeep, Ram currently employees 40 Chicago area residents and plans to hire ten additional staff member this year.
Zeigler Automotive Group vice president Jed Jordan stated, "Our team members are the cream of the crop and it's reflected in our products and services. We hire community members and provide continuous training to stay ahead of advancing technology and the ever evolving needs of our customers. To us, our continued growth is proof positive that when you focus your business around shoppers, providing excellent customer service and a great experience, you are positioned for long term success."
The dealership's new state of the art facility has an expanded service department including 22 service bays, convenient express lanes, an automatic car wash and indoor parking for customers. No waiting and no appointments are required for oil changes and other basic vehicle maintenance. Free loaner cars are also available for extended service stays. In addition, shoppers can take advantage of the new dealership's comfortable business and family friendly waiting area, complete with a café, fireplace and complimentary coffee and Wi-Fi.
Brian Malpeli, Zeigler Chrysler, Dodge, Jeep, Ram general manager also commented, "I have lived in Chicago Land my entire life and always worked in the auto industry. I'm excited about being a part of the Zeigler organization because they have the foresight to see that this is a customer service driven industry. We are honored to serve the hard working people of the greater Chicago area."
Zeigler Chrysler, Dodge, Jeep, Ram is proud to be the premiere dealership, serving Aurora, Burr Ridge, Downers Grove, Elmhurst, Lemont, Lisle, Lombard, Naperville, Oakbrook, Villa Park, Westmont, Wheaton and Woodridge. The dealership will also support numerous charitable organizations within the community.
About Zeigler Automotive Group:
The Zeigler Automotive group has served the Midwest for 35 years and has over 25 franchises. We have skilled and knowledgeable sales and service staffs with many years of experience satisfying our customers' needs. Located in Downers Grove, Elkhart, Grandville, Kalamazoo, Lowell, Plainwell and Schaumburg, the team at Zeigler Automotive Group will help you find the car, truck, van or SUV you want. At Zeigler Automotive Group we offer a searchable online inventory of new vehicles, along with well-maintained used cars by today's top manufacturers. Come on in and take a test drive! Our sales staff will help you find that new or used car, truck, van or SUV that you have been searching for.
###