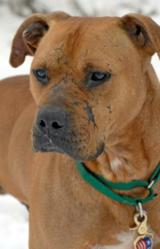 The weenie geeks seeking to get rich by developing this stuff would likely wet themselves if actually thrust into the poverty and violence of the environments they depict.
Kanab, UT (PRWEB) April 25, 2011
Best Friends Animal Society co-founder Francis Battista tells the public to contact Google and request removal of the "Dog Wars" app for Android phones from the market.
"Looking for a great way to channel all that pent-up frustration and outrage over the hall pass being given to Michael Vick? Look no farther. The Big Brother of the Internet has declared war on dog lovers with one of its latest offerings."
Read Battista's full article here: http://blogs.bestfriends.org/index.php/2011/04/25/dog-wars-android-softwares-bad-idea/
Since January, 2008, the toughest, most challenging of the Michael Vick pit bulls—the Victory Dogs—have been living at Best Friends Animal Society's sanctuary in southwestern Utah. At Best Friends, the dogs are getting the care, love, attention and enrichment to put them on the road to rehabilitation.
The Vicktory Dogs at Best Friends helped change the way the animal welfare world views dogs that have been forced to fight. Instead of dooming all seized fighting dogs to euthanasia, they are finally being evaluated as individuals.
Most of the Vicktory Dogs appear to be making great progress and the hope that they will be in loving homes is as bright as ever. So far, five of the dogs have been adopted and another one is in a foster home.
About Best Friends Animal Society®:
Best Friends Animal Society is a nonprofit, membership organization building no-kill programs and partnerships that will bring about a day when there are No More Homeless Pets®. The society's leading initiatives in animal care and community programs are coordinated from its Kanab, Utah, headquarters, the country's largest no-kill sanctuary. This work is made possible by the personal and financial support of a grassroots network of supporters and community partners across the nation. For more information, visit http://www.bestfriends.org.
Follow Best Friends Animal Society on Twitter: http://twitter.com/BFAS
To become a fan of Best Friends Animal Society on Facebook, go to http://facebook.com/bestfriendsanimalsociety
###