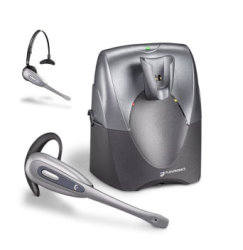 San Francisco, CA (PRWEB) April 26, 2011
It would be common to find a Plantronics wireless headset in today's office environment. Cordless telephone headsets are becoming a new standard in today's workforce especially in call center environments. A new wireless headset that recently hit the market was designed and manufactured by AT&T. This was new to the industry because AT&T hasn't delivered any competitive telephone headsets in the past but, they may be letting people know they're here to stay. Here is how the AT&T TL7611 Wireless Phone Headset stacks up against the rest.

Operating on the same DECT 6.0 Wireless Technology as most of the other wireless headsets
Bringing a new range however to the market with Roaming Ranges up to 500 feet
This model also delivers up to 12 hours of non stop talking time
Standard Noise Canceling Microphone
The AT&T TL7611 Wireless Telephone Headset has a unique 3 in 1 wearing style with over the head, behind the neck and ear hook all included
The TL7611 included the TL7000 Remote Handset Lifter which is designed for remote answering. AT&T also has the TL7610 model which does not include the Remote Handset Lifter
AT&T definitely introduced some new features to the wireless telephone headset industry. These new cordless headsets have been flying off the shelf since they sell at a very reasonable price.
Another new wireless phone headset is the Jabra Go 6470 Wireless Bluetooth Technology. Jabra which recently merged with GN Netcom delivered the new Jabra Go Series cordless phone headsets since merging.
New Bluetooth Wireless Technology
Standard Roaming Range of up to 300 feet
Featuring new interconnecting technology allowing to connect to office telephones, computer via USB and a Bluetooth enabled mobile cell phone
A non stop talk time of 6 hours
Convertible wearing style headset including over the headband and ear hook
Easy to use touch screen to easily toggle between Computer, Office Desk Phone or Cell Phone
Works with the GN1000 remote handset lifter for remote answering
So how to these new cordless telephone headsets compare to a Plantronics cordless headset that is most commonly found in the office today. There is no doubt that the Plantronics CS55 wireless headset and the Plantronics CS70N wireless headset are two of Plantronics top selling wireless headsets.
The Plantronics CS55 Wireless Headset works on the 1.9 GhZ Frequency and with DECT 6.0 Wireless Technology
Standard roaming range of up to 300 feet
Up to 10 hours of non stop talk time
Noise Canceling Microphone
Convertible Headset which includes a over the headband with soft leather ear cushion and over the ear hooks (different sizes)
Of course the Plantronics CS55 Cordless Headset is recommended with the Plantronics HL10 Lifter for remote answering
The Plantronics CS70N Wireless Headset also works on the 1.9GhZ Frequency and with DECT 6.0 Wireless Technology
Standard roaming range of up to 300 feet
Up to 6 hours of non stop talking time which is more than enough for a standard user
Noise Canceling Microphone
A very lightweight over the ear wearing style wireless telephone headset with a rubber sole for all day comfort
Highly recommended with the Plantronics HL10 remote handset lifter for remote answering
For more information regarding Plantronics telephone headsets please feel free to visit http://TheHeadsetShop.com. TheHeadsetShop supplies a huge inventory of both Plantronics and GN Netcom Telephone Headsets.
###