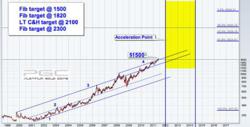 1 % of global assets and .3% of pension assets are currently allocated into gold
(PRWEB) April 26, 2011
Platinum Gold Coins saw a record amount of gold and silver IRA accounts being funded on Monday, April 25th as gold hovered around record highs of $1,500 oz and silver fast approached its all time high of $48.70.
Demand for Precious Metals IRA accounts rose sharply over the last week following the downgrade of US debt by the ratings agency S&P, an event many investors regard as only "the tip of the iceberg" of what's to come later on. As the US Dollar continues to decline in value, more and more people are liquidating the majority of their assets denominated in US dollars and acquiring precious metals. The bottom line is that investors striving to put their wealth in a secure place are shying away from the United States at all costs. Not only is the United States swamped with debt, but it also faces an added dilemma when it comes to reducing this burden.
The majority of the worlds developed economies have only one mandate to uphold when it comes to managing their economies; protect against inflation. The U.S. however has a duel mandate, to protect against inflation and provide maximum employment. This poses a problem because deficit reduction usually results in slower economic growth, which would ultimately lead to higher unemployment levels. The US is going to have to pick and choose only one of these mandates if it hopes to make progress. According to some of the most sophisticated investors, precious metals prices are expected to rise dramatically until significant action is taken. As a result we have seen many investors buying gold coins for their Gold IRA.
Former Schonfeld Group trader Chris Duffield says he thinks that, "gold is heading to $2,350/oz by 2013, and if hyperinflation occurs, which I think is inevitable, gold could overshoot to the $4100 dollar level!" (Refer to Picture) He goes on to say that, "One thing many people are overlooking is the fact that 1% of global assets and .3% of pension assets are currently allocated into gold. This number would have to be much higher before I would consider precious metals to be anywhere near bubble territory."
If you are considering adding precious metals to your IRA or would like additional information, please call 1-855-655-GOLD to speak with an account representative. http://www.platinumgoldcoins.com
# # #