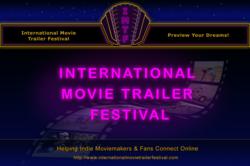 "Book trailers allow publishers to capture the spirit of a book or an author and really draw the reader in." Ruth Chamblee, VP of Marketing at National Geographic
Hollywood, CA (PRWEB) April 27, 2011
Can't tell a book by its cover? Try looking at the book's trailer.
Increasingly, authors and publishers are producing book trailers that preview their novels, biographies, how-to guides, and work in all other genres.
"In a few years," predicts Murray Suid, cofounder of the International Movie Trailer Festival (IMTF ) "the majority of books listed on sites like Amazon and Barnes & Noble will be accompanied by these short videos. Book trailers go way beyond book covers in reaching out to readers."
IMTF is the only online festival devoted entirely to showcasing trailers made by independent filmmakers. While its first contest focused on fiction and documentary trailers, this year IMTF added trailers for web series and books. The best entries in each category compete for the $5,000 Grand Prize chosen by a jury of industry professionals.
Like movie trailers (also known as previews), book trailers employ every trick in the moviemakers' arsenal: dramatic scenes, voice over dialogue, sound effects, eye-catching graphics, and—of course—music. Some of them use actors to bring key scenes to life. Others star the authors themselves.
The result can be powerful. As Ruth Chamblee, VP of Marketing at National Geographic Books explains, "Book trailers allow publishers to capture the spirit of a book or an author and really draw the reader in."
A quick online search reveals that book trailers are gaining popularity in the world of major publishing and self-publishing. In fact, the phenomenon can be seen as a way of leveling the playing field. While very few self-publishers can afford to advertise in The New York Times Book Review section, anyone with a camera—even a smartphone—can produce an effective book trailer and post it on YouTube or as part of their online bookstore page. And the trend is likely to increase as more and more books are published on devices such as the Kindle and the Nook.
But the phenomenon is not just a matter of marketing. According to Suid, "Book trailers can be as entertaining and artful as any other type of movie. That's why festivals like ours are beginning to acknowledge and honor the form."
The trick is getting across a lot of information and drama in a minute or two. John Francis, featured in a trailer for his latest book THE RAGGED EDGE OF SILENCE (National Geographic), advises other authors: "Keep it simple. The trailer for my book juxtaposes a few noisy places with a quiet room in which I say nothing. The contrast visually captures the ragged edge of silence."
Although THE RAGGED EDGE OF SILENCE trailer was made by a major publisher, it relied more on imagination than a big budget. For example, creative lighting turned a dark, empty parking garage into a mysterious inner sanctum.
Unlike movie trailers, which have been around for nearly a century, book trailers are still a relatively new phenomenon. "For this reason," says Suid, "our Festival not only honors book trailers but also offers practical tips to authors and moviemakers who are exploring the form for the first time."
Begun in 2010, the International Movie Trailer Festival has received entries from 22 countries. The Festival's popularity can be explained in part because the trailers are exhibited online 24/7, meaning that fans and possible allies can see the work on demand. But another attraction for moviemakers is that the Festival has formed an alliance with an innovative movie distributor able to arrange theatrical releases for indie movies.
And how does that relate to book trailers? Ask John Francis, whose first book—PLANETWALKER—was optioned by a major Hollywood director Tom Shadyac.
ABOUT THE COMPETITION: IMTF's current contest ends May 31, 2011. The entry form is online at http://www.internationalmovietrailerfestival.com/imtf/index.php/entry-form/ For more information about the International Movie Trailer Festival visit our site or email us at info(at)imtf(dot)biz. Tel. 310-435-5052.
###