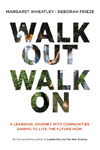 Exuberant and galvanizing, this book takes us to where the future is happening—not in the corridors of power but at the grassroots where a 'trans-local' movement is unleashing human creativity and smarts.
San Francisco, CA (PRWEB) April 27, 2011
Berrett-Kohler publishers is pleased to announce the release of its newest book, Walk Out Walk On, a learning journey to seven communities around the world to meet people who have walked out of limiting beliefs and assumptions and walked on to create healthy and resilient communities. These "walk outs who walk on" use their ingenuity and caring to figure out how to work with what they have to create what they need.
Walk Outs are people who bravely choose to leave behind a world of unsolvable problems, scarce resources, limiting beliefs and destructive individualism. They walk on to the ideas, beliefs and practices that enable them to give birth to new systems that serve community. This is the story of an emerging movement of pioneering leaders and communities around the world who are self-organizing to create healthy and resilient communities.
The book examines seven communities around the world and shares the lessons learned from the evolution of each unique community, whether in Mexico, India, Africa, or even Columbus, Ohio, the messages gleaned from this book are particularly meaningful during this time of global upheaval and crisis. It could truly be a time of new and fresh beginnings. People who have the courage to "walk out and walk on" are the courageous pioneers leading communities and people everywhere into a future that could be more peaceful and more sustainable.
Margaret Wheatley was cofounder and president of the Berkana Institute, http://www.berkana.org a global foundation that partners with people developing health and resilient communities. Margaret is the author of five other books, including Leadership and the New Science and Perseverance.
Deborah Frieze succeeded her as Berkana's president and created the Berkana Exchange with many of the people described in this book. Berkana partners with people developing healthy and resilient communities worldwide, many of whom are described in this book.
About Berrett-Koehler Publishers: http://www.bkconnection.com
Berrett-Koehler is an independent publisher dedicated to an ambitious mission: Creating a World that Works for All. To truly create a better world, action is needed at all levels--individual, organizational, and societal. At the individual level, BK books help people align their lives with their values and with their aspirations for a better world. At the organizational level, BK books promote progressive leadership and management practices, socially responsible approaches to business, and humane and effective organizations. At the societal level, BK books advance social and economic justice, shared prosperity, sustainability, and new solutions to national and global issues.
Walk Out Walk On by Margaret Wheatley and Deborah Frieze $24.95, paperback original, 288 pages, 6'' X 9'' ISBN: 9781605097312
Published by Berrett-Koehler Publishers, Inc: April 2011
Contact: Katie Sheehan, Berrett-Koehler Publishers
415-743-6477, ksheehan(at)bkpub(dot)com, @SheeKat
###