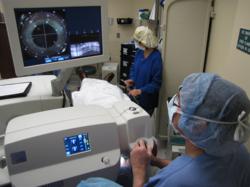 Laser refractive cataract surgery is without a doubt the most technologically advanced option for cataract patients," said Dr. Eric Donnenfeld
Carle Place, NY (PRWEB) April 27, 2011
Long Island's first laser enhanced and customized cataract surgery was performed by Dr. Eric Donnenfeld at Island Eye Surgicenter in Carle Place using the Alcon LenSx® Femtosecond Laser. Dr. Donnenfeld, a founding partner of Ophthalmic Consultants of Long Island (OCLI) and clinical professor of ophthalmology at NYU, is one of only a handful of surgeons in the U.S. experienced with this laser. Island Eye Surgicenter is only the fourth surgical facility in the US to acquire this advanced technology. Cataract surgery is the most commonly performed operation in the United States with over 3 million cases performed annually. Today, visual rehabilitation following cataract surgery may be significantly enhanced with the implantation of a lens designed to correct refractive error. The addition of this exciting laser technology adds a new level of precision and predictability to the procedure that simply was not possible with conventional manual surgery.
Each human eye is different in terms of size, depth, curvature of the cornea and other key features. Before cataract surgery, every eye is carefully measured and mapped. The LenSx laser uses a combination of highly advanced technologies to capture incredibly precise, high-resolution digital images of the eye. These images and the measurements and data they provide are then used to plan and perform a surgery to exacting specifications that were previously unachievable with traditional (manual) cataract surgery.
In addition, the LenSx laser adds computer-control to key steps of cataract surgery, ensuring highly precise surgical incisions. The unique software analyzes high-resolution images of the eye which then enables the surgeon to design a customized, image-guided procedure for every patient and then execute the laser procedure on command.
"Laser refractive cataract surgery is without a doubt the most technologically advanced option for cataract patients," said Dr. Eric Donnenfeld. "Before this technology was available, many of the most challenging steps during cataract surgery were performed manually with a blade. With the LenSx laser, we can offer our patients a truly premium experience with the precision and reliability of a laser for refractive cataract surgery. "Island Eye has invested significant resources integrating this sophisticated technology and in training our staff" said Robert Nelson, PA-C, Executive Director at the center. "We are thrilled to once again bring our patients the absolute latest innovations in ophthalmic surgical care."
The LenSx laser is the first FDA approved femtosecond laser for cataract surgery, which can very accurately perform anterior capsulotomies, corneal incisions and lens disruption. Prior to the introduction of this breakthrough technology, all of these steps were performed manually with handheld blades or ultrasound energy.
To learn more about customized laser cataract surgery and refractive surgical options using the LenSx laser technology, visit http://www.ocli.net. To schedule an appointment with Dr. Eric Donnenfeld or another OCLI cataract surgeon, please contact 1-866-SEE-OCLI (1-866-733-6254). For more information about Island Eye Surgicenter, please contact 516-877-2400.
About Ophthalmic Consultants of Long Island
OCLI, one of the largest ophthalmology practices in the nation, consists of 23 eye doctors and specialists representing most subspecialties of ophthalmology and optometry in 8 locations throughout Long Island; in Rockville Centre, Lynbrook, Valley Stream, Stony Brook, Manhasset, East Meadow, Port Jefferson and Inwood. OCLI also has a research department that is involved in FDA studies to improve the treatment and diagnosing of ophthalmic diseases. For more information, please call 1-866-SEE-OCLI (1-866-733-6254) or visit http://www.ocli.net.
About Island Eye Surgicenter
Island Eye Surgicenter is a New York State licensed and Medicare Certified Ambulatory Surgery Center and has been nationally accredited by AAAHC (the Accreditation Association for Ambulatory Health Care). Island Eye Surgicenter is unique in that it specializes in the surgical care and treatment of eye disorders. The center has made significant contributions in its pharmaceutical and device research activities. Island Eye Surgicenter is also a N.Y. State licensed Tissue Transplantation facility, and is a leader in the field of Corneal Transplantation.
###