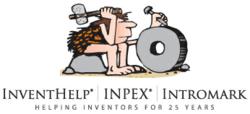 Pittsburgh, PA (PRWEB) April 27, 2011
InventHelp®, America's largest inventor service company, announces that one of its clients, an inventor from California, has designed hardware to support a metal stud and connect it to the framing. This invention is patented.
"Hortas Clip" would clip over the top of the stud and fasten to the slip track, aiding in attaching studs correctly. The U-shaped bracket may help to prevent shifting and provide a sturdy connection between a stud and the top track. The compact-designed Hortas Clip could offer additional support during earthquakes.
Hortas Clip would consist of a U-shaped bracket that could be constructed from hot-dipped galvanized steel so that it conforms to existing standards. The size could vary depending on the size of a stud. The sizes would range from 2-1/2 inches wide to 6 inches wide. The top portion of the bracket would feature grooves. The user would fit the clip over the top of the metal stud then fasten the stud to the top track with the bracket.
InventHelp® is attempting to submit the invention to companies for review. If substantial interest is expressed, the company will attempt to negotiate for a sale or royalties for the inventor. For more information, telephone Dept. 07-GDA-3515 at (800) 851-6030.
# # #