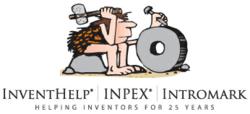 Pittsburgh, PA (PRWEB) April 29, 2011
InventHelp®, America's largest inventor service company, announces that one of its clients, an inventor from Indiana, has designed an accessory to keep an infant in the upright, standing position while using a walker. This invention is patented.
The "Hug Me" inflatable pillow or wedge would be placed behind the infant's back while the infant is in the walker. The design of the accessory facilitates support and comfort for the infant while in an upright position. The Hug Me would be easy to use and clean, and would be usable with walkers, jumpers, exercises and highchairs.
The Hug Me would consist of a T-shaped, inflatable pillow or wedge. The unit would be composed of plastic or vinyl and include a valve. The parent or caregiver would place the infant in a walker, inflate the accessory to the desired fullness, and then place it behind the infant's back. The accessory could be producible in a variety of sizes and in a disposable version. The Hug Me could also be decorated with fabric covers that include kid-friendly designs.
InventHelp® is attempting to submit the invention to companies for review. If substantial interest is expressed, the company will attempt to negotiate for a sale or royalties for the inventor. For more information, telephone Dept. 08-INY-650 at (800) 851-6030.
# # #