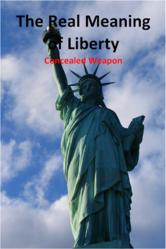 Storrs, CT (PRWEB) April 30, 2011
Always obey the law. Always respect your elders. Always trust people in suits. Young people do not have the same rights as adults. Authorities are always right. Those are statements that everyone is raised to believe, but are they true? According to "The Real Meaning of Liberty," they are not.
Concealed Weapon points out that there are numerous activities that are legal for adults, while young people are prohibited from participating in them. Is this a normal fact of life, or is it age discrimination? Are youths the currently accepted scapegoat of our society?
"The Real Meaning of Liberty" includes various types of information to encourage readers to respond to authoritarian statements that often go unquestioned. For example: reasons to give everyone's arguments a fair chance, not just arguments made by upper-class people dressed in suits; different types of propaganda used by authorities to convince society to blindly trust them; arguments against prohibitions on drug use and underage drinking, many of which are not even used by opponents of those laws; ways that young people are currently oppressed; rules for rebels to follow; a comparison between the United States government and the hypothetical "Most Oppressive Government"; myths and facts to common authoritarian statements; general advice for surviving police encounters; and how to tell if a law should be repealed.
Instead of acting sophisticated to appeal to the upper class, those with the most political power, Concealed Weapon takes a different approach by appealing to groups that are frequently ignored: teenagers, rebels, nonconformists and other commonly oppressed groups. He believes that everyone, regardless of how controversial or unpopular their opinions, deserves to be given a chance.
Concealed Weapon predicts that this book will face opposition from authorities as well as powerful political interest groups. This does not bother him at all. Regardless of how much opposition he faces, Concealed Weapon is not afraid to challenge authorities, and encourages his fans to do the same.
"The Real Meaning of Liberty" can currently be purchased on Amazon or through Concealed Weapon's website, http://TheRealMeaningOfLiberty.com.
About Concealed Weapon:
Concealed Weapon was born on November 23, 1989 in Meriden, CT. From a young age, he has always questioned authority and tried to understand what gave some people the right to boss others around. He especially did not understand adult superiority. At the age of 18, when searching online for organizations that opposed the drinking age, he found National Youth Rights Association. This strengthened his opposition to adult superiority because he knew there were other people who felt the same way. At the age of 19, he was introduced to Students for Sensible Drug Policy, Free Press and women's rights groups at the University of Connecticut. He has always had a desire to deviate from the school system and decided that writing an anti-authority book was the best way to do that. He began writing "The Real Meaning of Liberty" at the age of 19 and completed it at the age of 21.
###