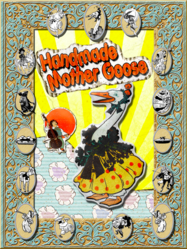 "When I turned sixteen, I bought a pair of decks and ran away from the circus." Charles Kriel
London, United Kingdom (PRWEB) April 28, 2011
When Charles Kriel, former BBC Radio 1 Resident Artist and ex-circus performer, released a children's book app, he realized how much his life had shifted. "I spent twenty years touring America on the circus, and another half decade in Europe raving for the BBC. Then one day you wake up and you've created a children's book, and life has come full circle."
"Handmade Mother Goose HD with EveryPage" featuring twelve nursery rhymes, each animated and narrated, releases internationally to the iPad App Store Thursday 28 April 2011. Designed, produced and developed by Dr. Charles Kriel, he also wrote and recorded the music and narration, and created the graphics and animation.
"I grew up performing on the circus – my parents and grandparents were circus people. And at our level, we did everything – costumes, music, signs, acrobatics," says Kriel. "Creating an app has that same appeal. Your get your hands in every aspect of what you're making."
Kriel's DIY approach found him breaking out on his own to work in media, via a tour of clubland. "When I turned sixteen, I bought a pair of decks and ran away from the circus. I started playing clubs and school dances around the Midwest. Ten years later, I emigrated to the UK, and was working at the BBC alongside Pete Tong, playing everything from Love Parade to the Ibiza superclubs."
Kriel's clubbing role changed after he appeared as himself in a Disney / ABC alternative reality game for the mini-series, Fallen. "The format of games appealed to me enormously," he says. Kriel went on to produce The White Island, an alternative reality game starring Pete Tong, Paul van Dyk and a dozen superstar DJs, later commissioned as a television series.
"It was gratifying, but exhausting. Afterward, I went home and thought, 'OK, whatever's next, it better be simple.'" Kriel found himself returning to the work of his childhood – children's entertainment. Pushed by a friend in the publishing industry, he settled on a format – an animated, narrated iPad children's book.
Kriel worked from a set of early 20th century drawings from the classic "Denslow's Mother Goose", illustrated by William Wallace Denslow, the man who created the original drawings for "The Wizard of Oz". Kriel then created a set of simple animations and narrations, designed specifically for pre-schoolers. Recording in his home studio on the south coast of England, Kriel created the soundtrack, and added the narration.
The finishing touch was the addition of EveryPage, a user interface design exclusive to Handmade Mother Goose HD, allowing pre-schoolers to easily and intuitively navigate to any nursery rhyme directly, in one step. "I wanted a child to be able to move from any story to any other story, without the complexity of menus or a series of screens. Kids want to play or be read to, not learn the architecture of a piece of software."
And how does Charles Kriel feel now that Handmade Mother Goose is in the app store? "This feels like a damned good children's app. It's brought me full circle – from circus to clubbing to children's books. At some point I just realized, it's more rewarding creating work for the kids."
Further information:
App: Handmade Mother Goose HD with EveryPage
Developer: Dr Charles Kriel, Kriels Handmade Tales
Categories: Books, Educational
Recommended Ages: pre-school and toddler
Device: iPad
Release date: 28 April 2011
Territory: global
iTunes link: [http://www.handmademothergoose.com/app/
Price: $4.99, with a special two-week launch price of $1.99
Stories:

Higgledy Piggledy
Hickory Dickory Dock
Baa Baa Black Sheep
Mary Mary Quite Contrary
Little Jack Horner
Old King Cole
Bye Baby Bunting
Humpty Dumpty
Pat-a-Cake
Mary Had a Little Lamb
Banbury Cross
To Market To Market
# # #