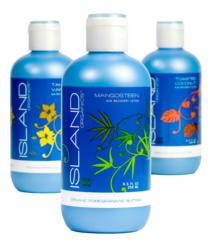 Tampa, FL (PRWEB) April 28, 2011
Island Organics Sun Recovery Lotions today announced their participation with Backstage Artist Lounge onboard VH1's Best Cruise Ever 2011. The cruise is due to hit the seas from Tampa to Cozumel onboard the Carnival Inspiration departing April 28th through May 2nd.
VH1 and Sixthman have teamed up once again to bring the ultimate music lover's getaway at sea with non-stop live music from some of VH1's favorite rock bands. This year's artist include Train, Lifehouse, Colbie Caillat, The Script and more than a dozen other bands, including Alpha Rev, Civil Twilight, Crowfield, The Daylights, Hope, Mat Kearney, Matt Wertz, Nikki Jean, One eskimO, Ryan Star, SafetySuit, Thriving Ivory and late-night favorites, Trailer Park Ninjas!
The Rockstar lifestyle isn't normally identified with organic skin care products. Although on each Island Organics label they recommend "Our lotions are best applied with four hands, so turn your safety off and find your favorite friend to help rub it in." This is a strong indicator of the fun loving lifestyle they appreciate and can be found in the music these bands and their fans will enjoy while rock'n the waves to Mexico.
Backstage Artist Lounge (BAL), which hosts preeminent touring rock bands at festivals and tours all across North America, will be producing the rock'n backstage lounge onboard. They'll be featuring sponsored giveaways including Island Organics Sun Recovery Lotions that will relive the bands "Burning Sensation" before hitting the stage. Thanks to VH1's Best Cruise Ever, BAL will continue to cruise the Caribbean Sea while affiliating top brands with top bands.
Island Organics Founding Partner, Kip LaTouf, says "There's been a missed opportunity for people to integrate organic products into their sun loving lifestyle and what better way than a cruise ship headed south". Island Organics makes you realize that natural products can be fun and sexy too. With colors of white sands and turquoise waters being showcased in their 100% PCR (post consumer recycled) bottles, their environmentally friendly attitude appeals to the adventurous new generation of enlightened consumers.
Island Organics variety of Sun Recovery lotions include Mangosteen, Tahitian Vanilla and Toasted Coconut. Their specifically crafted moisturizers are based in organic Aloe leaf juice. Then they infuse tropical organic butters and six exotic extracts into each of their lotions. These exceptional botanicals are traditionally used in the island cultures of Indonesia, Polynesia and the Caribbean. Their formulations are never tested on animals and are easily absorbed to prolong the hydration of the body's skin while nourishing sun damaged skin cells.
Island Organics Sun Recovery Lotions can be purchased online through Amazon.com and IslandOrganicsLotions.com. The product retails at a moderate price of $18.70 and wholesale information may be requested through their website. For any additional information contact Sport & Resort, Inc. at 1-800-870-2082.
About Island Organics: Island Organics Sun Recovery Lotions is owned by Sport & Resort, Inc. Their desert island location is in Las Vegas, Nv, with additional office cabanas opening in Miami, Fl and Southern California during 2011.
###