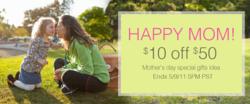 Harvest not only bags but also gratefulness. It's a day for gratitude.
(PRWEB) April 27, 2011
"Harvest not only bags but also gratefulness" – Bagsok.com recently released Mother's Day Sale which aims to deliver customers not only designer handbags, but a sense of being grateful for all the mothers.
Bagsok.com is an online store selling handbags designed for people of all ages. In pursuit of bringing customers with quality bags at affordable prices, Bagsok has created and distributed a line of popular brands, including DUDU, Feel Young, Love Match etc; meantime, to meet different customers' needs at different times, all kinds of promotions are launched accordingly, such as coupon codes and festive sales. This year, May 8th will be the annual Mother's Day. And Mother's Day Sale is in full swing at Bagsok.com.
According to Kevin Ellison, Marketing Director of Bagsok.com, the promotional campaign includes mainly the $10 off $50 discount and a recommended collection of designer handbags. Yet customers who purchase over $99 can enjoy a greater discount: a LOVE STORY OF TOKYO Series Wallet. Also the recommended collection gathers 9 kinds of handbags for customers to choose from, some of which are hot sellers at Bagsok.com.
Kevin said, "Look for your favorite handbags and add it to cart. When you order over $99, you will get one free purse as a gift. This is our gratitude for Bagsok customers for their long-term support. Free purse will not be available after April 29th, but the $10 off $ 50 Discount will last till May 9th."
Kevin specifically pointed out the theme for Mother's Day Sale. "It's a day for gratitude. For children, the $10 off $50 discount is a good chance to show their gratitude to considerate mothers for the all-year-round care; for husbands, it's a good chance to express their appreciation for their diligent wives who spare no efforts to take care of the whole family all the time; for mothers themselves, it's a good chance to sing praise for themselves, for the unwavering efforts they've made to nurture the children, to support the husbands and to perfect themselves as decent mothers!"
For more information, please visit http://www.bagsok.com/
About Bagsok.com
Bagsok is an online bags store devoted to Fast Fashion concept in the bag market by providing continuously updated quality classic and trendy handbags, luggage, business bags, etc.
###