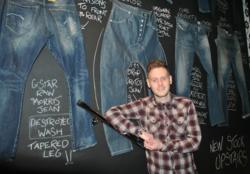 (PRWEB UK) 26 April 2011
Social Store, in Yarm has created a haven where men can enjoy a stress-free shopping experience whilst socialising with friends and sampling the latest technology and music, which has certainly hit a note with locals.
The retailer is expected to turnover close to £500,000 in its first year and is well on its way to hitting target after a surge in sales since launching earlier this year.
The stores website, socialstore.com has also surpassed expectations and enjoyed exponential growth in the short time since its launch, with month-on-month sales doubling each month since the turn of the year.
Benn Geldart who has quickly worked his way up to store manager and buyer from humble beginnings as a shop assistant, said: "Social Store is much more than a designer goods shop. It is a relaxed, sociable place for shoppers to soak up and sample the fashionable, cultural and technological lifestyle which men aspire to have.
"We specialise in finding the perfect fit for our customers and, whatever age they are, we will find the right clothing for them.
"We are aiming to constantly evolve and move forward as the demands of shoppers change."
Social Store will stock several brands that have not been available in Yarm before, such as indie music star Liam Gallagher's brand Pretty Green, Edwin Jeans, Denham and J Lindeberg.
The shop also plans to host a series of events, such as 'meet the designer' evenings, live music and fashion shows in the coming months.
It is also set to introduce iPads into the shop to allow customers to order items online if a certain designer's range is not available in the store.
Meanwhile, Mr Geldart – a self-confessed denim fanatic – has created a 'wall of denim' in the shop which explains different styles of jeans on a large chalkboard.
###