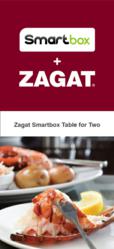 (PRWEB) April 29, 2011
Smartbox CEO, North America, David Meyers will be appearing live in-studio as a guest on KNBC's Today in LA with host Andy Adler on Sunday, May 1st at 7:00 a.m. Meyers will be discussing the growing "experiential gifting" trend in the country.
Who: Smartbox CEO, North America, DAVID MEYERS
What: KNBC Today in LA anchor Andy Adler to interview Meyers live in-studio about "experiential gifting" trend in advance of Mother's Day weekend
When: Sunday, May 1 – 7:00 a.m. (Pacific Time)
Where: KNBC-4 Los Angeles
About Smartbox
Smartbox (smartbox.com) is the next generation of gift cards allowing one to choose from a selection of activities and destinations within a given theme. Smartbox is presented in a gift box featuring a color guidebook with full details of each activity or escape. The recipient selects an experience, makes the reservation directly with the establishment (contact details are provided in the guidebook) and redeems the gift card upon arrival. Currently, Smartbox is available in the Northeast, Mid-Atlantic, Southeast, Great Lakes, Texas & California regions of the U.S.
###