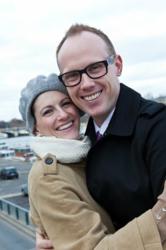 "Canadians have historically held an interest in the Royals and it is exciting that through our website, http://www.KateMiddleton.com, we can provide relevant, respectful, information and connect with others around the world who also enjoy the Royals."
(PRWEB UK) 27 April 2011
Canadian blogger Greg Kureluk and a couple of friends have secured the domain of Kate Middleton. http://www.KateMiddleton.com. The non-official domain of the future Queen of England, which provides up-to-the-minute information on the future Royal, has been tipped as the premiere URL to visit for all things Kate. Launched only a week ago, the website is now starting to gain international recognition and is cementing its position as an authority URL on Kate Middleton and the Royal Wedding.
"We are thrilled to be able to provide information on Kate, the wedding, and the influence she will have on a generation of young ladies," says Kureluk. "Canadians have historically held an interest in the Royals and it is exciting that through our website, KateMiddleton.com, we can provide relevant, respectful, information and connect with others around the world who also enjoy the Royals."
The URL is proving to be a hot property on the web, reaching thousands of interested watchers. As the wedding fast approaches and KateMiddleton.com continues to provide status updates, live social media interaction, and live blogging, it is fair to say that the website has the potential to reach hundreds of thousands located in the far corners of every country.
"The bottom line, for us," says Kureluk, "is that we want to embrace the moment and really provide an outlet for anyone interested in Kate Middleton. She is an interesting story and her influence on all things fashion, pop culture, and marriage/motherhood will be told time and time again."
The entire KateMiddleton.com team will be live blogging on April 29, before, during and after the wedding ceremony.
To learn more about Kate Middleton and the savvy group of business partners who scooped up her URL, the story their story that made headlines in the Edmonton Journal or follow their Twitter account @TheKateUpdate.com.
National Headlines:
MSNBC | Today Show
Forbes
Vancouver Sun
# # #