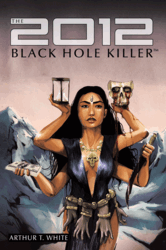 "It's really a combination of Wall Street, The DaVinci Code and 2012," says White.
Miami, FL (PRWEB) April 28, 2011
What do dark matter, Dick Cheney, Osama bin Laden, the People's Republic of China and other seemingly unrelated entities have in common? A new book links them all to the popular notion of the world's end in 2012.
Arthur T. White brings readers The 2012 Black Hole Killer, a new contribution to both science fiction and mystery. Centered first on a serial killer and unidentified frozen body, the book quickly catapults readers into a cosmological murder mystery that satirizes social and political wisdom as it consigns both the famous and infamous into the equivalent of hell on earth.
"It's really a combination of Wall Street, The DaVinci Code and 2012," says White.
Sound complex? White says the book contains "a theory of everything," touching on the fact that the world's inherent tribalism and selfishness threaten to destroy today's society. Both unconventional and timely, The 2012 Black Hole Killer is written with the overall aim of making readers think.
"It's probably the only book ever written that attempts to explain how the birth of the universe combined with multitudes of otherwise unrelated beings are all linked together in events tied to the predicted destruction of the universe," says White.
About the author
This book was added to Arthur T. White's bucket list in 2008 when he found out that he had a golf-ball sized brain tumor. A longtime student of erotic creation theology both here and abroad, he realized that he could weave such theologies into the "theory of everything" outlined in his book.
Editors: For review copies or interview requests, contact:
Jessica Kiefer
Tel: 317.602.7137
Email: jkiefer(at)bohlsenpr(dot)com
(When requesting a review copy, please provide a street address.)
###