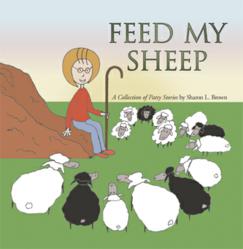 "If we are searching for God, we can find evidence of his presence in the daily routines of life," says Brown. "These stories are examples of everyday life."
Houston, TX (PRWEB) April 28, 2011
At the times in life when faith is needed most, it is often most difficult to find. A new book emphasizes its importance and the answers it can give when times are hard.
In her debut book Feed My Sheep, author Sharon Brown brings readers on a journey with Patty as she celebrates life's blessings and endures the trials of disappointment and challenge. Through her experiences overcoming hardship, Patty reflects on the importance of trusting God and his divine plan for our lives through all things.
"If we are searching for God, we can find evidence of his presence in the daily routines of life," says Brown. "These stories are examples of everyday life."
Addressing a variety of relatable problems and providing applicable, biblically based solutions, Feed My Sheep communicates to the reader the hope of salvation. In an easy to read format, the book uses colorful illustrations to communicate God's greatness and to encourage readers to embark on a daily walk with the Lord.
Maintaining that faith in God's plan can provide the strength needed to overcome life's difficulties, Brown aims to bring readers closer to God through the acknowledgement that life is tough.
"Challenges will come to us all, and it is important that we understand how to respond early on," says Brown. "God uses us to do his work. I want people to know there is hope in the future by knowing Jesus Christ."
About the author
Sharon Brown holds a leadership certificate in women's ministry from Southwestern Baptist Theological Seminary. She is involved in women's ministry, choir and the connection center at her church. She resides with her family in Houston, Texas.
EDITORS: For review copies or interview requests, contact:
Jessica Kiefer
Tel: 317.602.7137
Fax: 317.536.3775
Email: jkiefer(at)bohlsenpr(dot)com
(When requesting a review copy, please provide a street address.)
###