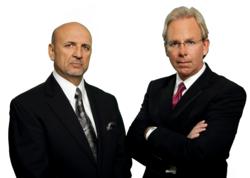 Los Angeles, CA (PRWEB) April 27, 2011
Alleged Dangerous Public Property Leaves Man Dead
The wrongful death attorneys of Bisnar│Chase claim the highway's uneven pavement made for dangerous driving conditions that were not observable by the motoring public and the uneven pavement was ultimately the source of Simpson's death. The suit goes on to state; the freeway's pavement had a four-inch drop-off and was too steep for the motoring public to drive across safely and without incident. The firm asserts the roadway was a hazard to drivers who had no way of knowing the drop-off was present.
Linda Jones, Mother of Tony C. Simpson, Seeks Retribution for Sons Death and Is Denied
On September 14, 2010 Jones filed a claim with the State of California, County of Los Angeles and City of Alhambra pursuant to Government Code sections 905 and 910 . Each claim was rejected, so Jones has been forced to file a lawsuit against these government entities to obtain compensation for the damages she has suffered because of her serious and permanent injuries.
BISNAR | CHASE seeks Justice for Tony C. Simpson and Linda Jones
According to court records, the dangerous condition of the public property in which Simpson was driving his motorcycle on was the legal cause of his death and all damages incurred by Linda Jones. The suit claims the four-inch drop off exposed the motoring public and the deceased Simpson to the risks and dangers of not being able to safely navigate into the carpool lane. These alleged dangers created an unsafe condition of the public property, which should have been foreseeable and preventable by the defendants. Bisnar│Chase asserts all public entities had the resources reasonably available to properly correct the defective roadway condition and they failed to warn the public of the hazardous drop-off. Consequently, Jones is now seeking recovery for the wrongful death of her son caused by the defendant's alleged disregard to remedy the dangers of the roadway.
Jones claims to have suffered severe emotional damage as well as economic damages from the loss of her son and Bisnar│Chase will seek all recoverables she is due. Linda Jones along with the wrongful death attorneys of Orange County filed a suit against State of California, County of Los Angeles and City of Alhambra on February 28, 2011 with Superior Court of Los Angeles. The case is currently pending, case # GC 046915
About BISNAR | CHASE
The BISNAR | CHASE Orange County Personal Injury Lawyers represent people who have been very seriously injured or lost a family member due to an accident, defective product or negligence throughout California. The law firm has won a wide variety of challenging cases against governmental agencies, including school districts, Caltrans, cities, the State of California and the U.S. Federal Government. Get a complimentary copy of The Seven Fatal Mistakes That Can Wreck Your California Personal Injury Claim. For more information, please visit http://www.CaliforniaInjuryBlog.com.
###