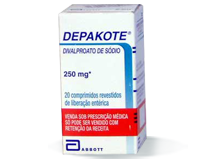 Oklahoma City, OK (PRWEB) April 27, 2011
The Oklahoma law firm of Atkins & Markoff hereby announces that it has added a Depakote resource page to its Web site and that the law firm is reviewing claims regarding alleged Depakote birth defects free of charge in furtherance of this effort to communicate the potential dangers of taking this anticonvulsant medication during pregnancy.
Specifically, Depakote side effects have allegedly included the risk for children whose mothers used Depakote during pregnancy to be born with one or more severe birth defects ("Birth Defects Related to Depakote and Similar Drugs", Dec 2009, fda.gov). The reason for this risk is because of the presence of valproic acid in the medication. The FDA has specifically warned the public of these risks in a statement released in December of 2009 entitled "Valproate Sodium and related products (valproic acid and divalproex sodium): Risk of Birth Defects".
Depakote class action lawsuits have been filed in Madison County, IL against the manufacturer of Depakote, Abott Laboratories. More than a dozen parents of children born with birth defects have joined this class action lawsuit. Birth defects that have been alleged in Depakote lawsuits that have been filed (St. Clair County Circuit Court Case No. 10-L-651 and No. 11-L-143) include, but are not limited to Neural Tube Defects, Spina Bifida, Cleft Palate, Cleft Lip, Heart Malformations, Brain Malformations, and even Fetal Death. These are major birth defects that will affect these children for the rest of their lives and require costly medical treatment. These Depakote lawsuits seek compensation for these type of expenses and other damages associated with Depakote birth defects.
There have been other Depakote side effects alleged by parents of children born with birth defects, but those above represent examples of problems that pose a high risk for the infant.
In addition, Atkins & Markoff has added a resource page designed to provide an overview of Depakote, its uses, its label warnings, its alleged side effects and how to go about hiring a Depakote lawyer. The Depakote attorneys at the firm are also offering a free initial consultation for parents of children who were born with birth defects that may have been caused by the use of Depakote while pregnant.
###