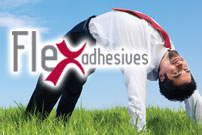 "Flex Adhesives enable printing companies to greatly expand services to their customers – and to open new opportunities for the printing industry."
(PRWEB) April 27, 2011
Franklin Adhesives & Polymers, a division of Franklin International, has empowered printing companies to easily and cost-effectively print adhesives in-house on their own flexography equipment – and give their customers exactly what they want – with its revolutionary new line of Flex water-based adhesives.
Franklin introduces the extraordinary Flex line with no fewer than 11 adhesives for permanent, removable, repositionable and specialty applications. Breadth of line gives print houses the right type of adhesive for just about any job. Printers can easily provide customers the precise construction they seek, on a variety of print pieces: Direct mailers, packaging, sheet labels, signage, beverage labels, repositionable notes, scrapbooking and much more.
The Flex line includes nine Covinax® adhesives for permanent, removable and specialty applications and two Micronax® adhesives for jobs that require repositionable adhesives, such as sticky notes and repositionable packaging. Micronax adhesives enable printing companies to create unique pieces that can be lifted and re-applied over and over again.
"We are extremely excited to introduce water-based adhesives for flexography processes to the printing industry," said Dan Pikula, technical director, pressure sensitive adhesives at Franklin Adhesives & Polymers. "It enables us to bring our expertise in adhesives to a new market and enables printing companies to greatly expand services to their customers – and to open new opportunities for the printing industry."
In spite of everything Flex adhesives can do, printers will find them easy to apply. First, unlike other flexography adhesives, Flex products are water-based, not solvent-based. This unique formulation renders them safe to use and safe for the environment, too. It also simplifies equipment cleanup after runs.
Further, through relationships with equipment manufacturers, Franklin helps printing companies that want to use Flex quickly identify any additional components required to enable their flexography printers to run water-based adhesives. In short order, companies can begin offering their customers the reduced cost and increased versatility of in-house adhesive application.
About Franklin International: Based in Columbus, Ohio, U.S.A., Franklin International was established in 1935 and today is among the largest privately held manufacturers of adhesives sealants and polymers for commercial and industrial applications. Franklin integrates its core competency – emulsion polymerization – into a broad product offering, including glues, adhesives, hot melts, binders, sizing compounds and more. These products are distributed across six continents for use in construction, furniture manufacturing, millwork, paper converting, pressure-sensitive products, filters and fiberglass reinforcement.
###