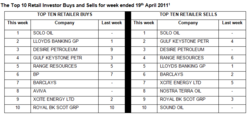 London (PRWEB) April 27, 2011
Darren Hepworth, Trading and Customer Services Director, TD Waterhouse comments: "TD customers focused their attention on oil and financials in the week ending Tuesday 19 April as mixed news among companies in both sectors appeared to lead the investment agenda. Concerns over Europe's lingering debt problems continued to cast a shadow on the FTSE as it closed down on the week at 5,896.87 (Tuesday, 19 April).
Darren Hepworth continues: "BP, which was very much the centre of media attention following a disrupted AGM meeting last Thursday (14 April) and continuing negotiations with oil giant Rosneft, disappeared from the top ten customer sells table this week, instead gaining one place in the buys, finishing the week in sixth place.
"Solo Oil certainly struck a chord with TD customers this week though, catapulting to the top of both our top ten buys and sells tables. The company's share price rocketed to a high of 176p on Tuesday, having opened trading the previous Wednesday (12 April) at 50.5p, an increase of nearly 250%. The spike came after the company's joint venture partner Reef Resources said that it expects the Ausable #5 well in Canada to be on production within six weeks.
"The outlook was not as positive for Desire Petroleum this week however, as news broke to investors that its Ninky well in the North Falkland basin will be plugged and abandoned. Despite this being the latest in a series of what market analysts are describing as disappointing Falkland-based drilling campaigns, Desire's chairman, Stephen Phipps, remains confident that the company will eventually strike oil in the region. The markets did not appear to share his optimism, however, as the oil explorer's share price opened at 12.25p Monday, having closed at 40p the previous Friday (15 April).
"Staying with oil, this week's new entry to the top ten sells, Nostra Terra Oil saw its stock soar amid speculation on Friday (15 April) that the US-focused group could be close to sealing and unveiling a transformational deal within the next month. In a statement, the company did not expand on the rumours other than saying that it remains in discussion with several parties about interests in established reservoirs capable of delivering strong cash flow and increased payouts.
"Continued Eurozone debt fears appeared to dominate the trading agenda as far as financial stocks were concerned this week with Lloyds Banking Group, Barclays and Royal Bank of Scotland Group all changing positions in both the buys and sells tables. Lloyds dropped to second in the buys and an unusually low fifth in the sells, while Barclays dropped four places to sixth in the sells, re-entering the buys in seventh. RBS meanwhile retained 10th place in the buys table, dropping to ninth in the sells."
The value of your investments can go down as well as up. You may not get back all the funds that you invest.
TD Waterhouse is the UK's leading execution only broker2 with trading rates starting from £8.95. Only 15 or more eligible trades per quarter are required to qualify for TD Waterhouse's frequent trader rates3.
For more information customers can log on to http://www.tdwaterhouse.co.uk
About TD Waterhouse:
TD Waterhouse is the UK's leading execution-only broker†, servicing approx 200,000 UK customers with over £3.77 billion in customer assets (stocks and cash) under management. It is a subsidiary of the TD Bank Group (TD or the bank), the 6th largest bank in North America by branches. TD has 81,000 employees in offices around the world, serving 19 million customers with client assets of CDN$616 billion (as at 31, January 2011). † Source: Compeer based on daily average retail trades for TD Waterhouse including its white label partners, as at February 2011.
TD Waterhouse provides UK investors with simple, fast and easy share dealing services - combined with high quality news and information from leading providers including AFX and Morningstar (Hemscott) - to both active traders and longer-term investors. These include UK and international equity trading, Individual Savings Accounts (ISAs), Regular investment accounts, Self Invested Personal Pensions (SIPPs) and Contracts for Difference (CFDs).
TD Waterhouse is authorised and regulated by the Financial Services Authority (FSA), 25 The North Colonnade, Canary Wharf, London E14 5HS (FSA registered number 141282), member of the London Stock Exchange and the PLUS market.
###