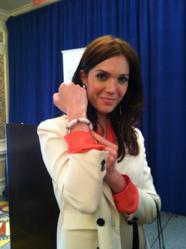 New York, New York (PRWEB) April 27, 2011
On April 25th, scholars, politicians, and activists gathered in New York not only to recognize and commemorate those suffering from malaria, but also to celebrate the enormous progress that has been made in recent years to promote awareness, treatment options, and prevention of this deadly disease. Founder Kristen Kenney represented MALAIKA FOR LIFE at the Malaria Day Roundtable Luncheon on World Malaria Day, hosted by Roll Back Malaria and the Office of the UN Special Envoy for Malaria, in cooperation with the UN Foundation and UNICEF.
On World Malaria Day, singer/songwriter, actress and Populations Services International Goodwill Ambassador Mandy Moore displayed her solidarity and support by donning Malaika's signature white bracelet while delivering her remarks on "Popular Culture in the Fight Against Malaria." Ms. Moore saw first hand the devastating effects malaria has upon women and children, in particular, when distributing prevention nets in Southern Sudan in 2009. She has now become a major voice for malaria awareness – and MALAIKA FOR LIFE commends for her work.
Also in attendance: Asha-Rose Migiro, UN Deputy Secretary-General; Ray Chambers, United Nations Secretary-General's Special Envoy for Malaria; Prof. Awa Marie Coll-Seck, Executive Director of the Roll Back Malaria Partnership; H.E. Mr. Ombeni Sefue, Permanent Representative, Tanzania Mission to the UNChair; Ray Chambers, United Nations Secretary-General's Special Envoy for Malaria; Rear Admiral Timothy Ziemer, U.S. Global Malaria Coordinator, U.S. President's Malaria Initative; Dr. Rob Newman, Director, Global Malaria Programmed, WHO; Dr. Maryse B. Pierre-Louis, Program Leader, Disease Control Program, African Region, World Bank; Dr. Olusoji Adeyi, Director, Affordable Medicines Facility-malaria, The Global Fund; Dr. Nicholas Alipui, Programme Division Director, UNICEF; and Dyann Wirth, Chair, Department of Immunology and Infectious Diseases, Harvard School of Public Health.
World Malaria Day was founded just three years ago to create greater awareness about the devastation malaria reaps on lives and families across Africa. On April 25, we remember those who have lost their lives to this treatable disease, honor those who continue to fight it, and rejoice for those who have survived. MALAIKA FOR LIFE along with many other organizations and countless individuals have made a significant impact on eradicating this disease – today we celebrate this headway while acknowledging that there is still progress to be made.
About MALAIKA FOR LIFE
Founded in 2009 by malaria survivor Kristen Kenney and financial advisor Anna Wascher, MALAIKA FOR LIFE is dedicated to saving lives and empowering communities, ONE bracelet at a time. Proceeds from every bracelet purchased provide life-saving medication to a child with malaria. For the widows and HIV-positive women who craft the products, the organization provides a sustainable income that in turn facilitates economic development for their local Tanzanian community.
Connect with MALAIKA FOR LIFE:
Website: http://www.MALAIKAFORLIFE.org
Facebook: http://www.facebook.com/MALAIKA4LIFE
YouTube: http://www.youtube.com/user/MalaikaChannel
# # #