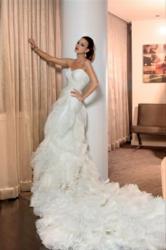 New York, NY (PRWEB) April 27, 2011
Infamously known for their prom dresses and extravagant wedding dresses, the Jovani fashion house has just created a name for themselves in designer bridal gowns. Now, the company who prides itself on supplying all sorts of special occasion dresses can surely add another component to their illustrious résumé. Not only do the spring and summer months bring in the warm weather, but it also denotes the pinnacle of wedding season.
Since its first launch almost one year ago to date, it may be safe to say that Jovani's wedding dress collection for 2011 could be their greatest success yet. Stars like Alexa Vega from the Spy Kids movie and Broadway hit Hairspray, have popped into the Jovani showroom to preview the exquisite Collection. The young actress snagged herself a fabulous, knee-length reception dress in white for the rehearsal dinner, and even dressed a team of bridesmaids in one of Jovani's lengthy chiffon styles for her grand wedding to movie producer Sean Covel.
For any bride-to-be, the wedding day is one of the most significant events in her life and everything must be perfect. How a bride looks and feels on that special day is critical to ensuring a memorable occasion. From the dress, to the shoes, hair and makeup, each element must be thoughtfully designed to create a gorgeous and head-turning look. Before any minor details or accessories can be considered, the bride must start her search for the perfect wedding dress. With a variety of necklines and silhouettes to choose from, not to mention meticulous embellishments, no other designer has made wedding gowns and bridal dresses quite like Jovani.
For all those last minute brides who still haven't found their dream wedding dress, look no further than Jovani Fashions. The extensive Bridal Collection offers a style for every type of bride—modern or classic. The Collection also features elegant mother-of-the-bride dresses that will make any woman proud to show off, as well as fashion-forward styles for the rest of the bridal party. Submitting an ensemble of loyal bridesmaids to the most dreadful and unfortunate-looking dresses is a thing of the past. Never before has it been so easy to plan a wedding with such style and flair.
Company
Jovani is a family-owned fashion house that designs and manufactures special occasion dresses for women. From prom dresses, to wedding gowns, short and homecoming dresses, not to mention red carpet couture, Jovani has a collection for every formal need. As an innovator in women's evening wear, Jovani's designer dresses are both chic and timeless. The eye-catching styles are unique and versatile, and are a favorite among Hollywood's young elite. On the red carpet and inside the pages of high-fashion magazines, Jovani's evening dresses make a glamorous statement wherever they go.
Contact: Nazy Rafaeil
(212) 279-0222 Ext. 181
###