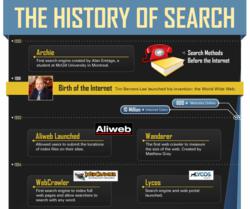 Overall, it's just interesting to see the changes over the years."
Salt Lake City (PRWEB) April 27, 2011
Since it wasn't Al Gore, do you ever wonder who invented the Internet?
How did the launch of Google impact early search engines like Lycos, Excite and Ask Jeeves?
More than 2 billion people use the Internet today, up from nearly 782 million a decade ago. Many use search engines when surfing the web. SEO.com, a Utah-based search engine optimization firm, released an infographic this week that explores the history of search engines from the early days of the Internet through the advent of Google's +1 button in 2011.
Claye Stokes, director of search engine optimization for SEO.com, said the graphic was designed to educate the public about the history of search engines and search engine optimization.
"SEO is still an unknown to a lot of people," Stokes said.
You'll find the infographic interesting whether you are a marketing manager, business owner or CEO, he said.
Though not the first infographic to explore the history of search engines, SEO.com's is one of the most thorough, Stokes explained.
"It's a great history and timeline of search," he said. "We did try to make it more comprehensive than most of the current designs."
Stokes said he hopes to make a poster from the infographic to hang on the wall in his office.
While highlighting unique players in the SEO industry, the infographic explains how social networks like Facebook and Twitter have influenced search engines.
Many companies in 2010 said they intend to spend more on SEO services. Through search engine optimization, businesses are able to make their websites rank higher when people look for their products online.
The amount businesses spent on print advertising plummeted last year as marketing dollars shifted toward the Internet, said Boyd Norwood, a director of SEO at SEO.com.
"Overall, it's just interesting to see the changes over the years," Norwood said as he examined the infographic. "More and more companies are getting rid of advertising budgets for print and direct mail and moving toward the Internet. You want to be where the people are looking, where the people are."
The Search Engine Marketing Professional Organization (SEMPO) has projected that search marketing could become a $20 billion industry in 2011.
The first search engine called Archie was invented by a student at McGill University. In 1991, Tim Berners-Lee launched his invention: the World Wide Web. There were quickly more than 10 million Internet users and with the birth of the web came early search engines like Wanderer, Webcrawler, Lycos and Excite.
Google came on the scene in 1998, prompting droves of web users to abandon search engines like HotBot in favor of the Internet giant. An offer from Yahoo in 2002 to purchase Google for $3 billion was rejected. By 2003, there were 38 million websites and the Internet was on its way to having a billion users.
Google again revolutionized how people search for information with the advent of Google Local in 2004. A year later the search giant introduced personalized searches, which returned results based on what you had searched for in the past.
But the technology powering search engines advanced more in the past five years than it did the entire decade before, according to Norwood.
In 2006, Google purchased YouTube, now the second-largest search engine in the world, he said.
"Five years ago it was Google, Yahoo, MSN," Norwood said. "Now it's Google and YouTube."
View the SEO.com infographic here: History of Search.
About SEO.com
SEO.com is an Internet marketing firm that specializes in organic search engine optimization and pay-per-click advertising (PPC) management. SEO.com has helped numerous clients climb to the top of Google for their targeted keywords. Clients range from small, startup businesses to Fortune 100 companies. For more information about SEO.com, visit http://www.seo.com.
###