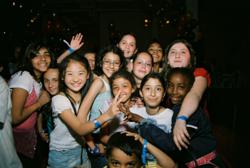 Council for Unity. We stand for opportunity.
New York, NY (PRWEB) April 28, 2011
For the last 15 years Council for Unity has recognized individuals with a commitment to improving the lives of children in some of our toughest neighborhoods and schools. The Council for Unity salutes the 2011 Champions for Children Honorees:
Earvin "Magic" Johnson, Sean and Anne Coffey and Michael Mulgrew for their unique qualities of mind and heart and their personal belief in the power of positive intervention.
The Honorable Domenic M. Recchia, Jr., New York City Council member and Chairman of the Finance Committee, states that "The Council for Unity is the most effective program I know for preventing gang violence, developing a positive school climate and encouraging academic success. It has made a huge difference in the lives of New York school students for more than 36 years, and deserves the support of all those who believe an investment in our youth is a commitment to our future."
The Council for Unity's unique model incorporates academics, leadership development and character education. It provides opportunities and guidance for over 100,000 at-risk young people throughout New York State. Its mission is to empower young people, individuals and groups with the skills necessary to promote unity, safety and achievement in schools and communities. This non-profit organization's strategies create an atmosphere of tolerance that reduces bullying, violence and acts of bias.
For more information and tickets please visit Council for Unity's website at http://www.councilforunity.org .
###