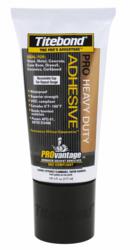 "Our customers don't have to waste an entire 10-ounce or 28-ounce cartridge for a smaller job and can easily seal up the six-ounce tube for continued use."
Columbus, OH (PRWEB) April 27, 2011
Franklin International, maker of Titebond adhesives and sealants, has a big idea with one of its new products: A conveniently small, squeezable tube of solvent-based, VOC-compliant PROvantage Heavy-Duty Construction Adhesive.
The new six-ounce squeeze tube puts the power of the strongest, most-versatile PROvantage adhesive – until now, available only in 10- and 28-ounce cartridges – right into the hands of professionals and DIYers doing small bonding jobs and project touch-ups. The easy-to-use tube doesn't require a caulking gun; contractors and DIYers just remove the cap and get to work. Convenient size, along with a long, 12-month shelf life once opened, also enable the squeeze tube to remain a staple in the toolbox, at-the-ready for quick jobs.
The PROvantage tube fits as easily into a tight spot as it does into a toolbox. In addition to a handy size, the tube has a pre-cut removable nozzle, enabling construction pros to work in constricted areas, where cartridges or nails can't. When finished gluing, they just clean off the tube tip, replace the nozzle and cap, and return the tube to the toolbox for the next job.
"We designed the squeeze tube to enhance the versatility of our PROvantage Heavy-Duty Construction Adhesive," said Franklin's director of marketing, Craig Stone. "Our customers don't have to waste an entire 10-ounce or 28-ounce cartridge for a smaller job and can easily seal up the six-ounce tube for continued use."
Contractors and DIYers alike will appreciate the convenience of the handy squeeze tube and the removable nozzle. More than that, they will value the high-performance characteristics and environmental friendliness of the adhesive inside the tube.
Franklin's PROvantage Heavy-Duty Construction Adhesive is part of the industry's broadest line of solvent-based, VOC-compliant construction adhesives. The PROvantage line includes eight different types of adhesives that, together, meet every application on the construction site. These adhesives offer all the valued performance characteristics of conventional solvent-based formulations, such as fast-grab and ability to extrude in cold weather. At the same time, PROvantage technology relies less on petroleum derivatives and, with VOC content under 50 g/L, meets the most stringent state and federal VOC regulations.
"We developed the PROvantage line to give professionals true 'performance without compromise,'" said Stone. "With PROvantage, they can meet LEED requirements without relinquishing the benefits of solvent-based technology."
As the most powerful formula in the PROvantage line, PROvantage Heavy-Duty Construction Adhesive can bond most common building materials, including wood, metal, brick, marble, ceramic tile, concrete, drywall and wet, frozen and treated lumber. It offers strong green grab and, because it extrudes in temperatures between 0°F and 100°F, keeps working right on through extreme heat and cold.
PROvantage construction adhesives – including the new six-ounce squeeze tube of PROvantage Heavy-Duty Construction Adhesive – are available at hardware and builder supply stores.
About Franklin International
Established in 1935, Franklin International is among the largest privately held manufacturers of adhesives and sealants in the U.S. The company employs approximately 400 at its headquarters, laboratory and plant, in Columbus, Ohio; eight distribution centers across the U.S.; and a new plant in Guangzhou, China. Franklin provides local support to customers domestically and globally through a network of 75 independent sales representatives and direct field sales associates. The company maintains two divisions: the Construction Division, which manufactures a complete line of Titebond® wood glues for cabinet shops and hobbyists as well as a full line of Titebond® adhesives and sealants for construction professionals and do-it-yourselfers who demand the professional touch; and Franklin Adhesives & Polymers, which provides adhesives to industrial wood-assembly plants and pressure sensitive adhesives to label manufacturers.
###