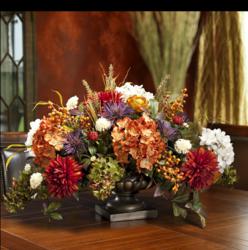 "Because they look so real, silk flowers have become a must-have for home decor and the perfect autumn accent."
White Plains, N.Y. (PRWEB) April 28, 2011
This year, when you feel that first nip of crisp, cool air at summer's end, turn to Silkflowers.com for a fast and easy way of adding warm autumn tones to your home decor. The nation's largest supplier of designer-quality silk botanicals, Silkflowers.com is pleased to announce new offerings for its Fall 2011 collection.
The company's Silk Hydrangea and Lily Accent ($59) is sure to be a best seller with its bold orange, rust and green hues. It can instantly add fall flair to a bedside table, desk or bathroom. Silkflowers.com's Mixed Hydrangea and Mum arrangements (available in two sizes, $199 and $249) will catch the eye as well with their rich autumn tones including avocado green, scarlet burgundy, rust and even purple. "The familiar golds, oranges and reds of fall are accented with various shades of purple this year," Tim Hennessy, co-founder of Silkflowers.com, said. "It puts a new twist on the traditional autumn color palette. Our designers have enjoyed incorporating purple into our fall collection, a color that provides a transition into winter allowing the homeowner to enjoy the arrangement up until spring."
Silkflowers.com expects its new line of faux grasses to be very popular this autumn as well. Grasses that appear to be dried and different variations of green grasses have become a décor essential because they bring texture and motion to a room. "Grasses have been widely used in Europe and now the trend has moved to the U.S.," Hennessy added. Consider Silkflowers.com's Mixed Grass Fireside Planter ($199) for your hearth or a large sofa table. It flows with color and texture in an aged copper container, an ideal autumn accent. The company also offers striking four-foot and six-foot tall grass plants (ranging in price from $129 - $199) perfect for corners and narrow vertical spaces, such as next to a large armoire or book case.
Silkflowers.com's fall collection also includes many other stylish bouquets and arrangements, from $39 to $299. The company's Snap Dragon and Fugi Mum centerpiece ($139) is perfect for your Thanksgiving table and its elegant Lily and Ranunculus bouquet ($79) will add warmth and color to an entryway or living room. The company additionally features small stylish bud vases starting at $24 and a wonderful assortment of single stems starting at $3 for those interested in creating their own designs.
Of course the other great thing about silk botanicals is that they last. Sure, fresh flowers can accent your home for autumn, too, but why purchase something that will wither and die within a week's time? Vase water needs to be changed every few days, and fallen leaves and petals make a mess. Silk florals are virtually maintenance-free and last a good seven years or longer. Display them this fall and beyond, to add spirit-lifting color during the long winter ahead. Or store them away until next fall; your seasonal décor budget will thank you for it.
"There's nothing like a change of season to make you crave new color for your home," Hennessy said. "Today's quality silk flowers and plants look more realistic than ever – thanks to new technology – and because they look so real, they've become a must-have for home décor and the perfect autumn accent."
Silk florals also make wonderful gifts, from housewarmings to holidays to birthdays. Gifts purchased from Silkflowers.com are shipped directly to your recipient's doorstep and expertly packaged to arrive in perfect shape for easy display right out of the box. Unlike live cut flowers, silk flowers won't freeze or wilt due to extreme temperatures if left on a doorstep by a delivery person. A stylish gift card that may be personalized with a message of your choice is also included.
For more information and high resolution photography visit http://www.silkflowers.com/pressroom. The company is also on Facebook and Twitter and it has a blog, http://blog.silkflowers.com.
Silkflowers.com is the nation's largest supplier of designer-quality silk botanicals, including floral arrangements, decorative stems, plants and trees. The company proudly offers the widest selection and inventory of beautifully designed silk creations at affordable prices, delivered directly to consumers with utmost care. Silkflowers.com's sister company, OfficeScapesDirect (http://www.officescapesdirect.com), serves the commercial market in the same manner, offering the widest selection anywhere of designer-quality silk botanicals for business interiors and commercial spaces. Both companies are located in Cincinnati, Ohio, and White Plains, N.Y.
###