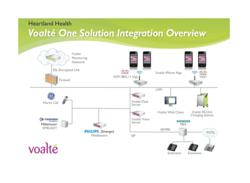 Replacing legacy phones with Voalté has been a smart decision.
Sarasota, FL (PRWEB) April 28, 2011
As tablets and smart phones evolve and make their way into hospitals, many health care executives are working to develop a successful mobile-integration strategy. St. Joseph, Mo.-based Heartland Regional Medical Center recently implemented Voalté's iPhone solution, which leverages the hospital's disparate systems onto a single communication platform.
Voalté enables caregivers at the medical center to make high-definition VoIP calls, receive critical alarms and send and receive presence-based text messages on the iPhone. This unique deployment includes integrations to the hospital's Siemens PBX, GE Dukane nurse call system, and Cerner ADT alarms through Philips' Emergin Enterprise Service Bus over its Cisco wireless network.
"Our nurses wanted iPhones because they can communicate faster using only one device and smart phones offer anywhere access," said Dr. Joe Boyce, chief medical information officer at Heartland Regional Medical Center. "We evaluated handsets and voice badges and chose to implement Voalté's iPhone solution because it works with our existing infrastructure and allows our clinical staff to provide a higher level of care. Replacing legacy phones with Voalté has been a smart decision."
Health care organizations like Heartland Regional Medical Center need to find a communication solution that leverages their current investment and provides a platform for future expansion and functionality, according to Trey Lauderdale, vice president of innovation at Voalté.
"We are excited to have a partner like Heartland Health that is helping us drive the future of point-of-care communication," he said.
Streamlined and simplified communications allows nurses to focus on providing care and service.
According to Julia Jacobs, a registered nurse at Heartland, texting another clinician is much easier for the nurses than roaming from room to room or having them paged overhead, which often disturbs patients who are resting.
"When I am in the room trying to comfort a patient or the patient's family, I need to provide a peaceful environment for them," said Jacobs. "It was hard to do that when my pager and phone would continue to go off."
According to Boyce, nurses want to see the right information at the right time in the right form.
"Our nurses don't care about all the integration that is happening behind the scenes," said Boyce. "Voalté enables them to spend more time with their patients."
Anything that relieves nurses of non-clinical duties frees them up for patient care, Lauderdale said.
"The time alone that we will save by being able to text message a group of people is priceless," said Jacobs. "I love being there to hold my patient's hand or provide support for my patient's family. Now I have more time to do that."
About Heartland Health
Heartland Health is a not-for-profit, fully-integrated health system serving community members of northwest Missouri, northeast Kansas, southeast Nebraska and southwest Iowa. More than 3,200 caregivers (employees, volunteers and providers) provide the best and safest care by focusing on acute illness and injury through physician and hospital care services including cardiac; women and children; primary care; oncology; surgery; orthopedics; and neurosciences. Heartland Health caregivers are dedicated to improving the health of the community, one individual at a time through the work of Community Health Improvement Solutions and the innovative initiatives of the Heartland Foundation. All entities work collaboratively to fulfill Heartland Health's mission — to improve the health of individuals and communities located in the Heartland Health region and provide the right care, at the right time, in the right place, at the right cost with outcomes second to none. For more information on Heartland Health, please visit http://www.heartland-health.com.
About Voalté
Voalté provides compelling software solutions for healthcare institutions that solve communication problems at the point-of-care. Voalté products are designed to be intuitive, high value, mission critical applications running on the latest generation of touch-based smartphones. For more information, visit http://www.Voalte.com or call 941.312.2830.
###