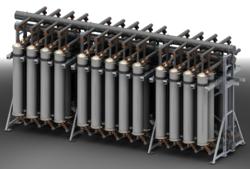 Wilmington, Massachusetts (PRWEB) April 28, 2011
KMS, a world-class developer and manufacturer of innovative membranes and membrane filtration systems, will display the TARGA II HF system and its other innovative water-treatment solutions at booth 1937 at the conference, scheduled for June 12-16 in Washington, D.C.
The TARGA II HF system offers a cost-effective, safe, high-quality water solution for a variety of ultrafiltration applications, from drinking water to seawater pretreatment, industrial water treatment, and tertiary wastewater treatment. The membrane element features a robust PES membrane which, combined with optimized cartridge and rack design, results in one of the smallest footprint products on the market. The fibers are ideally suited to meet drinking water requirements and provide 4-log virus removal.
The cornerstone of the TARGA HF system is intelligent process controls to handle variations in water quality and flow with minimal operator intervention, reduced chemical use, and less energy.
"In addition to optimized PES based membrane chemistry to reduce membrane fouling and improved module design to improve product robustness, TARGA HF comes with a state-of-the-art intelligent controls system. The intelligent control system was developed after extensive process testing with TARGA HF and allows users to handle variations in feed water quality and flow variations with minimal operator intervention while reducing overall chemical and power consumption," said Manny Singh, KMS Vice President of Technology Product Management.
KMS will also display its leading MBR solution, the PURON™ submerged membrane module, at ACE11. PURON modules offer significantly lower life-cycle costs due to a single-header design that provides better solids management in the module, braided fibers to reduce the risk of fiber breakage, and highly effective air scouring that virtually eliminates sludging. PURON technology produces high-quality effluent that can meet stringent water reuse and recycling requirements while its compact design significantly reduces the treatment system footprint and installation costs.
About Koch Membrane Systems (KMS)
For nearly four decades, Koch Membrane Systems, Inc. has led the way in developing innovative membrane technologies that serve a diverse range of industries and applications around the globe. KMS provides solutions to markets including industrial and municipal water and wastewater, food and life sciences and industrial processes helping thousands of industries reduce their water footprint, increase productivity, and reduce costs. With an installed base approaching 20,000 systems throughout the world, KMS is setting the standard as a comprehensive membrane solutions provider. KMS is proud to be the Water Technology Company of the Year, 2010.
©2011 Koch Membrane Systems, Inc.
The STYLIZED K is a registered trademark of Koch Industries, Inc. in the U.S. and other countries. The FLOW LINES DESIGN is a registered trademark of Koch Membrane Systems, Inc. in the U.S. TARGA is a registered trademark of Koch Membrane Systems, Inc. in the U.S. and other countries. PURON is a trademark of Koch Membrane Systems GmbH and is registered in Germany and other countries.
Koch Membrane Systems, Inc. is a Koch Chemical Technology Group, LLC Company.
# # #