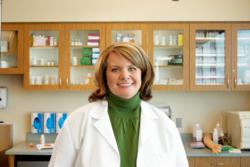 Minneapolis, MN (PRWEB) April 28, 2011
Rasmussen College faculty member Billi Jo Beck has been named the 2011 Minnesota Society of Health-System Pharmacists Outstanding Technician. Beck, who is a resident of Circle Pines, MN, teaches in the pharmacy technician degree program in the School of Health Sciences at Rasmussen College.
According to Jamie S. Sinclair, President of the Minnesota Society of Health-System Pharmacists, Beck exceeded or met criteria including dedication to teamwork and leadership within the practice of pharmacy, service as a role-model for co-workers and participation in the development of efficient, innovative methods that support the provision of pharmaceutical care in health-system pharmacy.
"We are extremely proud of Billi Jo's recognition by this prestigious state-wide organization," Rasmussen College Vice President of Academic Affairs Carie Ann Potenza said. "At Rasmussen College, we combine top faculty with our market-leading degrees to deliver an exceptional education to our valued students, and Billi Jo's recognition is an example of that."
Beck is a Certified Pharmacy Technician and has worked in the pharmacy field for more than 20 years. She specializes in diversion prevention and automated dispensing systems. Her work experience includes retail, hospital, and specialty compounding.
Founded in 1936, the MSHP is a professional society that represents more than 1,000 members such as pharmacists, pharmacy technicians, residents, and students. As a part of its mission, the MSHP provides visible leadership, education, advocacy, and networking opportunities to support its members and to enable people to make the best use of medications.
To view this press release in its entirety, or to read others like it, please visit http://www.rasmussen.edu/press-release/2011-04-27/instructor-named-outstanding-pharm-tech/.
ABOUT RASMUSSEN COLLEGE:
Founded in 1900, Rasmussen College is a premier provider of educational experiences, dedicated to the growth and development of its students, employees, and the communities it serves. Accredited by the Higher Learning Commission, Rasmussen College offers Bachelor's and Associate's degrees in fields with the greatest occupation opportunities to more than 15,000 students both online and through its network of 21 campuses. By partnering with leading universities, Rasmussen offers opportunities to students beyond the Bachelor's level. The Rasmussen Partner Network gives students the opportunity to earn Master's and Doctoral degrees completely online, at their own convenience, from prominent universities around the country. To learn more about Rasmussen College, please visit Rasmussen.edu.
###