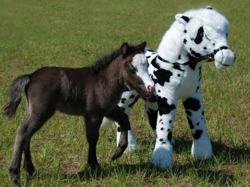 ..there are thousands of providers who incorporate interaction with horses to facilitate learning, yet the public has no idea this kind of learning exists. It is our mission to get the word out and provide an easy access directory to providers worldwide.
Merritt Island, FL (PRWEB) April 28, 2011
Winning With Horse Power http://WinningWithHorsePower.org will feature, as part of their debut, a demonstration featuring Magic from Gentle Carousel Therapy Horses, recently named by TIME/CNN and Newsweek as One of History's Ten Most Courageous Animals and Ten Most Heroic Animals 2010.
A relatively new organization which was founded to build awareness of equine experiential learning is rapidly becoming the go to resource on the topic and directory for easy access to member providers worldwide in all related areas of expertise.
An interactive session will be held at 11:30 a.m. on May 24 as part of the American Society for Training & Development (ASTD) International Conference & Exposition, which begins May 22 at the Orange County Convention Center in Orlando, Florida. Over 8,000 training professionals are expected to be in attendance.
"Throughout the world, there are thousands of providers who incorporate interaction with horses to facilitate learning, well-being and personal growth, yet the general public has no idea this kind of learning exists," says Eileen Tighe, founder of Winning With Horse Power. "It is our mission to get the word out about this unique and highly effective method of training and development and to facilitate easy access to member providers worldwide."
A wide range of provider expertise allows for a diverse selection of program topics including executive coaching, leadership development and management skills, advanced communication and teamwork, and employee engagement. Additionally, there are programs tailored to individuals and for specific needs and industries such as sales, medical teams, first responders and wounded warrior transition programs. This style of hands-on learning is conducted through ground work (not horseback riding) with a facilitator guiding the learning process either in groups or on an individual basis.
"Horses are incredibly sensitive. During interaction they immediately tune in to their human partner's energy, reflecting back that person's true state-of-mind, taking in their actions not words," says Tighe. "The horse is a true partner in the learning process; the trained facilitator provides the activities and helps the clients assess and interpret the results."
To draw attention to this relatively unknown field, the Winning With Horse Power trade show booth will include appearances by Magic and Aladdin, highly trained miniature therapy horses. These diminutive horses are being provided by The Gentle Carousel Therapy Horses of High Springs, FL; an all-volunteer non-profit organization that provides therapeutic visits to a variety of facilities, such as children's hospitals and convalescent homes and an award winning literacy program.
Winning With Horse Power is located in Merritt Island, Florida and was founded to draw attention to the unique industry of equine experiential learning for the training and development of individuals, organization and corporations. The founder, Eileen Tighe, has over 20 years of international experience in leadership development, management and employee training as well as employee communications, at the corporate level. She is a sought-after public speaker who captivates her audience with a fun, eclectic and down-to-earth style that belies her corporate background. Winning With Horse Power is a membership organization which represents equine experiential learning providers from around the world with a wide variety of expertise and methodologies. For more information about Winning With Horse Power, contact Eileen Tighe at 321-431-9916 or visit http://www.WinningWithHorsePower.org.
###