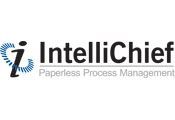 One of the most powerful benefits that comes from integrating IntelliChief with JDA MMS is the ability to search for and retrieve documents directly from the ERP application screen
Mansfield, MA (PRWEB) April 27, 2011
IntelliChief LLC, the leading provider of Paperless Process Management™ (PPM) solutions for the IBM I (System i, iSeries, AS/400) Enterprise announced their tight integration with JDA MMS -- giving users robust electronic document management capabilities direct from their JDA MMS ERP screens.
IntelliChief will feature this integration at JDA Focus 2011, the industry's largest supply chain event, which will be held from May 1-4, 2011 at Walt Disney World in Orlando, FL. Attendees are encouraged to stop by the IntelliChief booth to learn how processes like invoice routing, approvals, paperwork filing, and more are made electronic with IntelliChief and allow for easier document accessibility, quicker turnaround, and higher efficiency.
When the IntelliChief document management, imaging, and workflow solution is integrated with JDA MMS, it becomes a powerful system to enhance purchasing, receiving, accounts payable, and other paper-intensive processes.
"JDA users will find it easy to go paperless with IntelliChief. Our seamless integration and easy implementation with JDA MMS makes IntelliChief an extremely powerful and cost-effective solution," said Michael Rooney, Vice President of Sales and Marketing for IntelliChief.
IntelliChief streamlines and improves processes such as the purchase of goods, the receiving of materials, the processing of invoices and submitting payments to vendors by eliminating manual tasks involved with document sorting and distribution, approvals, and paper handling. "One of the most powerful benefits that comes from integrating IntelliChief with JDA MMS is the ability to search for and retrieve documents directly from the ERP application screen," said Mr. Rooney. As users are retrieving Purchase Order documents, IntelliChief displays all related documentation, including the original PO request, vendor acknowledgements, vendor invoices, etc.
About IntelliChief
IntelliChief, is the leading provider of Paperless Process Management (PPM) solutions for the IBM i (System i, iSeries, AS/400) Enterprise. With decades of expertise in the market and seamless integration with leading ERP software vendors, IntelliChief takes companies of all sizes paperless with a typical ROI of less than 8 months. Users can create, capture, manage, archive, retrieve, and distribute mission-critical documents directly from their familiar ERP screens, eliminating the need for filing cabinets, storage facilities, fax machines, copiers, and paper files.
###