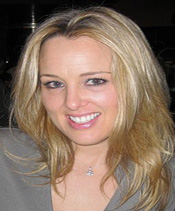 I'm very excited about the new partnership with Brymus Capital. Blaise is a savvy business man with a knack for business development. My strengths are networking, marketing and sales. Together, we will move a lot of REO inventory for our clients.
(PRWEB) April 28, 2011
Brymus Capital, Inc. ("Brymus"), the parent company of Brymus.com, is pleased to announce that it has partnered with Hollywood Hills real estate broker, Laura Hall, to develop buyers for its clients' Real Estate Owned assets in Los Angeles and Bakersfield, Ca. Blaise Bryant is the principal at Brymus Capital.
The partnership developed out of a chance meeting at the REO EXPO conference in Dallas in June 2010. Brymus handles the rehabilitation, marketing and disbursement for sale of REO properties for a number of major banks and loan servicing companies. Laura is a buyer's broker with familiarity with the Los Angeles and Bakersfield markets.
With the recent and overwhelming success of Brymus in Los Angeles, Orange County, the Bay Area and other areas, the next stop on the multi-city expansion of Brymus is Bakersfield. As Brymus is offered more real estate listing assignments, they are actively hiring agents in new markets to handle marketing and sales functions. Choosing a top producer agent such as Laura Hall was a natural choice and Bakersfield was a logical progression.
"I had been bringing investors to opportunities in Bakersfield for some time to my friends who identify investment opportunities in Bakersfield. They have a turn-key operation that is generating great returns. They have all the contacts and operations to repair and sell real estate. Blaise and I recognized that this machinery could be utilized to prepare REO inventory for sale as well. It's my job to handle that as well as to bring buyers to his inventory." Laura says.
A new website is under development to promote active listings as well as 'prelistings'. Pre-listings are properties assigned to Brymus to sell but that are not yet on the market because they are currently occupied or under renovation. By marketing the properties before they have a price and before they go on the multiple listing service, Laura hopes to generate a 'wait list' of owner-occupant home buyers and investors. This way, Brymus can sell the properties in the shortest amount of marketing time. Homebuyers who plan to use financing can use the prelisting period to secure financing so their loan pre-approval can be submitted with their offer as soon as the property is listed for sale.
In an effort to develop a pipeline of buyers, Laura plans to host home buyer seminars in the Bakersfield area beginning in April. A mixer is being planned as a meet-and-greet opportunity for home buyers and local agents to meet Laura Hall.
To put your name on the list for the mixer, please call Laura Hall at (661) 333-3764.
For media interviews, contact Laura Hall, (661) 333-3764 or Blaise Bryant (714) 883-8321
ABOUT BLAISE BRYANT
Blaise Bryant was raised in California and attended Iowa State University. He played professional football in the US and Canada for six seasons. He started mortgage brokering in 1997 and soon became a top producer at Stearns Lending. He started Brymus Capital in 2005 and added REO listing to his services in 2008.
ABOUT LAURA HALL
Laura Hall was raised in Colorado until she attended the University of California at Riverside. She began retail loan brokering in 1995. In 2004 she went to work for Impac Lending and in 2006 Wachovia. She left corporate wholesale lending to start her own enterprise, Casa Pacifica Homes and Loans in 2006. She focuses on Hollywood Hills real estate as well as distressed real estate sales.
(*) For more information including: media inquiries, investors, homebuyers, asset management assignments, or electronic press kits (EPKs) of clientele contact our main office or go online to our official website at HollywoodHillsHomes.biz or call (866) 55 HOMES.
###