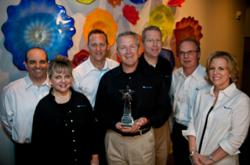 Fort Worth, Texas (PRWEB) April 28, 2011
Inspirus, a provider of workforce recognition solutions for companies including Delta Air Lines, has been recognized as Delta's Small Business of the Year award winner for 2010. Each year, Delta's supply chain management organization recognizes small, minority and women-owned businesses who have distinguished themselves and their businesses by making significant contributions towards the advancement of Supplier Diversity and superior achievements in business operations with the Supplier Diversity Star Award. Inspirus was nominated in the small business category and chosen by the selection committee as the winner.
Inspirus has been a supplier for Delta since 2002 and was selected to receive the Small Business of the Year award based on several criteria including cost savings, quality & reliability, innovation, delivery of services, business relationship, outreach & community involvement and awards received.
President Michael Cobb of Inspirus expressed the company's gratitude. "We are humbled by this recognition of our performance and deeply touched. I want to thank Delta on behalf of the entire Inspirus organization. Just to be a longstanding service partner to Delta is a privilege, but to be recognized as their 2010 Small Business of the Year is truly an honor. There is no greater recognition for a service company like Inspirus than to be valued and admired by a customer like Delta. While we celebrate now, we look forward to "reaching higher" across 2011 and partnering with our Delta business leaders to do an even better job of inspiring and engaging the 75,000 employees that fuel the industry's most admired global airline. We are pleased with the continued opportunity to serve their company."
About Inspirus
Inspirus is making the world a better place to work by delivering workforce recognition solutions that amplify employee engagement, improve retention and boost performance. For more than 100 years, Inspirus has partnered with clients to implement recognition programs tailored to fit each of their unique goals, values and cultures. Our solutions combine Software as a Service (SaaS), professional services and an unmatched rewards selection to inspire employees and drive measurable results. Inspirus believes in the transformational power of recognition. With a global reach, Inspirus is headquartered in Fort Worth, Texas, and on the Web at http://www.inspirus.com.
# # #