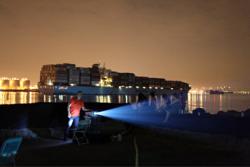 LUMEN will feature over 50 international and local artists who have shown/performed at places like Galapagos Art Space, P.S.1, and The Whitney Museum.
Staten Island, NY (PRWEB) April 28, 2011
The Council on the Arts & Humanities for Staten Island (COAHSI) is proud to once again present LUMEN, a video and performance art festival. Making use of Staten Island's under-utilized waterfront, LUMEN will take place on the grounds of the National Lighthouse Museum site on Saturday, June 25, 6pm-12 midnight. The National Lighthouse Museum is less than 5 minutes from the SI Ferry Terminal, and the event is free of charge.
Building on the success of last year's event, LUMEN 2011 is expected to draw over 800 people from across NYC. For many in attendance, LUMEN was their first visit to Staten Island and was a chance to experience the growing, underground art scene on the stereotypically "forgotten borough."
LUMEN 2011 will feature video installations, 3D-video technology, new media projections, animation, performance art, art interventions, and sound art. An industrial Staten Island waterfront stage will feature work from over 100 international and NYC-based artists who have shown and performed at such NYC venues as Galapagos Art Space, P.S.1, The Whitney Museum, Issue Project Room, The Invisible Dog Art Center, Flux Factory, The Bronx Museum, BAM Rose Cinemas, ApexArt, Art in General, Artists Space, Smack Mellon, Lower East Side Tenement Museum, NurtureArt, and BronxArtSpace, among others. The festival will include performances throughout the duration of the event, and visitors will be able to purchase prints from our "artist gallery".
The National Lighthouse Museum is a spectacular venue for the festival. Videos will be projected on both the interior and exterior of buildings – on walls, façades, and trees. People can bring towels and blankets to lie on while enjoying the evening's events featuring avant-garde contemporary art. It is the perfect summer evening event.
And if you get caught up in all the fun and are afraid you'll miss the ferry back to Manhattan, don't worry! The ferry runs all night and is only a 5-minute walk from the festival! So take your time and experience work from participating artists: Alex Villar, Kathryne Hall, Grady Gerbracht, Janaina Tschäpe, Matthew Sleeth, Jason Peters, Dena Al-Adeeb, Joro De Boro, Mark Clare, Sander Houtkruijer,Lisa Dahl, Tattfoo Tan, Mandy Morrison, Brendan Coyle, Don Porcella, Paul Moakley, Steven Lapcevic, and many, many more.
Please visit the official LUMEN website at http://www.lumenfest.org to learn more about LUMEN and the artists involved. To contribute to the event, please see LUMEN's IndieGoGo page: at http://www.indiegogo.com/LUMEN2011. LUMEN will be free of charge and open to the public.
About COAHSI:
The mission of COAHSI is to cultivate a sustainable and diverse cultural community for the people of Staten Island by: 1) making the arts accessible to every member of the community; 2) supporting and building recognition for artistic achievement; 3) providing artists and organizations technical, financial, and social resources to encourage the creation of new work. COAHSI does extensive outreach to communities that are underserved geographically, ethnically, and economically. The organization works hard to impact the arts across all borders.
# # #