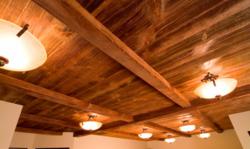 They are very lightweight, easy to install and maintenance free. Nobody will be able to tell that they're not the real thing.
Hollywood, FL (PRWEB) April 29, 2011
Hollywood, Florida is pleased to be the home of Brackets and Beams, a revolutionary company that's changing the way houses look, at an affordable price. Due to a demand for low cost alternatives to expensive natural products, BracketsandBeams.com offers interior and exterior faux beams, brackets, rafter tails, corbels, headers, ceiling panels, wall panels, shutters, planks and accessories.
"Our products provide a striking, simple and effective way to change the décor of a room or exterior of a home. They are very lightweight, easy to install and maintenance free. Nobody will be able to tell that they're not the real thing," says co-owner, Mary Frandsen. With faux wood textures like "Weathered Wood", "Southern Cypress", "Pecky Cypress" and faux stone textures like "Carolina Castle Stone", and "Colorado Ledgestone" these products are sure to impress because of their life-like appearance.
These products look so life-like because they're created from a molding of an actual piece of wood or stone. These products are manufactured in the USA using a technologically advanced high-density polyurethane resin system that perfectly replicates the natural color and textures of stone and wood. This process enables them to capture intricate details from the originals to make it an indistinguishable duplicate.
When the Extreme Makeover: Home Edition's team was looking for an authentic 1920's Mediterranean motif, they turned to Brackets and Beams products, which were used extensively on the project and installed in two days. Co-owner Len Capozzo was excited to be contributor. "We're very happy to have been a part of such a wonderful project. It's great to see our products used to simply and easily beautify a home."
Brackets and Beams offers trade discounts for volume purchases as well as a limited lifetime warranty that products will be free from defects in the material. With detailed installation instructions on the website, Brackets and Beams products are do-it-yourself friendly. They're also an inexpensive way to add value to your home.
To see a complete listing of their products and services visit them online at bracketsandbeams.com or call them at (877) 272-2063.
About Brackets & Beams
BracketsandBreams.com was launched in 2009 and has quickly become a leader in faux wood and faux stone architectural elements. This family run company comes from an extensive background in designing and building architectural elements for the residential and commercial building industry, with over 30 combined years of experience. They decided to leverage that expertise and offer their products directly to the do-it-yourselfer, remodelers and small builders.
###