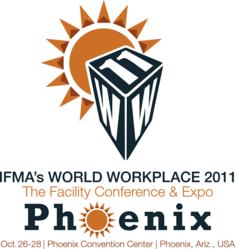 Houston, Texas (PRWEB) April 26, 2011
The International Facility Management Association is pleased to announce the selection of Bjørn Lomborg and Christopher Gardner as the keynote speakers for the association's World Workplace 2011 Conference & Expo. Held Oct. 26-28 at the Phoenix Convention Center in Phoenix, Ariz., World Workplace will bring leaders from the world's top business and government organizations together with educators and exhibitors to focus on the future of the built environment.
Lomborg will deliver the conference's opening keynote presentation on Wednesday, Oct. 26. Dubbed "the skeptical environmentalist" after a book he wrote of the same title, Lomborg is a noted business and environmental academic and author who currently serves as an adjunct professor at the Copenhagen Business School. He has recently appeared on the Late Show with David Letterman, CNN's "In the Arena," and in USA Today and the Washington Post.
Lomborg will lecture on his new book and DVD "Cool It – The Skeptical Environmentalist's Guide to Global Warming," in which he argues that many of the actions now being considered to stop global warming will cost hundreds of billions of dollars, are based on emotion and may have little impact on the world's temperature. He instead argues for confronting more immediate concerns such as HIV/AIDS, malaria and a clean water supply, which can be addressed at a fraction of the cost and save millions of lives within our lifetime.
"Global warming has been touted as the defining issue for businesses, but with the economic downturn a new realism has set in, prompting many to be more skeptical," said Lomborg. "My World Workplace presentation will chart a smart middle course avoiding denial, but also green wishful thinking. I believe today's facility professionals need to focus on environmental solutions that make cold financial sense, while emphasizing policies that will do the most green good for the money spent."
Gardner will deliver the conference's closing keynote on Friday, Oct. 28, with his speech "Start Where You Are," an uplifting message in which he helps attendees learn how to transform themselves through adversity and make positive changes in their lives. Gardner's own life story was published in his autobiography "The Pursuit of Happyness," which became a motion picture starring Will Smith in 2006.
"Like folks in most businesses, I'm sure facility professionals have experienced a rocky couple of years," said Gardner. "My World Workplace keynote presentation will focus on the lessons I've learned about coping with adversity in my own personal journey from the streets of San Francisco to Wall Street, a message I believe will resonate with anyone in their own pursuit of happiness."
Early registration for World Workplace 2011 is available through Aug. 5. To learn more about the conference or to register, visit http://www.worldworkplace.org. Members of the media may register at no cost by emailing communications(at)ifma(dot)org.
IFMA's World Workplace Conference & Expo is an annual three-day educational and networking event focused on the future of the built environment. Building on the professional development opportunities available through the association year-round, the World Workplace experience includes a conference focused entirely on education and an exposition incorporating product demonstration and instruction. This year's conference will be held Oct. 26-28, 2011, at the Phoenix Convention Center in Phoenix, Ariz. For more information, visit http://www.worldworkplace.org. To join and follow IFMA's social media outlets online, visit the conference's NETworkplace page.
###