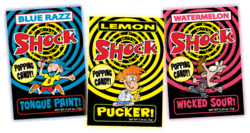 MADE IN AMERICA
Neenah, WI (PRWEB) April 27, 2011
Urban legend holds that Pop Rocks® and Coke® can kill you if taken together. That legend is nonsense, as is the common perception that Pop Rocks® is an American Brand. Pop Rocks® and Coke® cannot hurt you, and Pop Rocks® have not been made in America for decades. The brand Pop Rocks® is owned by a company located in Spain, which is also where it is manufactured, and has been for more than 20 years. Pop Rocks® are tiny sugar crystals which contain highly pressurized carbon dioxide.
Diane Sawyer and ABC News have been on a search to identify products Made in America. The Made in America version of carbonated sugar is manufactured exclusively and only in the United States by the company Raven Manufacturing, LLC, located in tiny Neenah, Wisconsin and sold through a distribution network controlled by PoppingFUN, Inc. (also located in Neenah, WI).
Over 20 years ago, Lynn A Hesson, founder of Raven Manufacturing, LLC and PoppingFUN, Inc., first devised the means to incorporate carbonated sugar into ice cream. From this pioneering idea, Hesson created a global market for carbonated sugar as an ingredient, establishing customers in over 35 countries. By the end of 2000, Hesson's company Raven Manufacturing began producing carbonated sugars in Wisconsin.
For a number of years, Hesson's company offered its products in bulk and private label formats, working with leading US companies like ConAgra, Dairy Queen, Kraft, and General Mills, to add popping and snapping power to their products.
This year, the company is rolling out its exciting new brand SHOCK™, an extremely sour exploding candy. Based on early reactions from kids across the United States on the company's Facebook page, this should be one of the most exciting new candy introductions in years.
PoppingFUN has employed a variety of leading edge technologies to support its introduction of SHOCK, including Scanlife QR Codes on all packaging creating a direct link for its consumers with SHOCK's Facebook community.
###